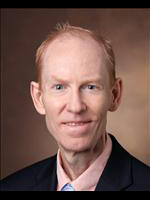 James Chappell, M.D., Ph.D.
Research Associate Professor
Global Health Topic(s): Epidemiology, Infectious Diseases, Vaccines
Country(ies): United States of America 
Dr. Chappell is an Associate Professor in the Department of Pediatrics. He serves as medical director of the VUMC Clinical Diagnostic Virology Laboratory and Molecular Infectious Diseases Laboratory. He is an affiliate of the Elizabeth B. Lamb Center for Pediatric Research located in the Division of Pediatric Infectious Diseases. Dr. Chappell also serves as director of the VUMC Fellowship Training Program in Medical and Public Health Laboratory Microbiology.
Dr. Chappell's laboratory research concentrates on the etiology, epidemiology, prevention, and pathobiology of infectious diseases, with primary emphasis on the respiratory and enteric systems. Current projects in the laboratory include collaborative, multi-center studies of pediatric acute gastroenteritis (AGE) and pediatric and adult acute respiratory illness (ARI) with colleagues in the Departments of Pediatrics and Medicine.
The causes, prevalence, and prevention of pediatric AGE, especially rotavirus- and norovirus-attributable disease, is under investigation through prospective surveillance of ill and asymptomatic children. These efforts are aimed at evaluating ongoing rotavirus vaccine effectiveness and the evolving pathogen spectrum of pediatric AGE in the post-rotavirus vaccine era, information essential to the design of new vaccines and therapies for prevalent gastrointestinal infections.
ARI studies are principally focused on the prevalence, clinical presentation, vaccine-mediated prevention, and treatment of influenza infection. Major goals for this work are to accurately define the burden of influenza disease in hospitalized patients, quantify influenza vaccine effectiveness, and identify opportunities for reducing influenza-related morbidity and mortality through improved applications of vaccines and antiviral therapies. Companion research addresses the prevalence and clinical impact of other common respiratory pathogens, such as respiratory syncytial virus, among individuals hospitalized with ARI.
Other active projects in the laboratory include studies of microbe-host cell interactions, persistence, and antimicrobial susceptibility of the intracellular bacterial pathogen, Chlamydia pneumoniae. This organism is a well-known cause of upper and lower respiratory tract illness with the capacity to establish persistent infection. Research on C. pneumoniae involves characterization of the pathogen life cycle and response to antibiotic treatment using molecular, microscopic, and bacteriologic techniques applied to cell-culture models of infection. Results of these studies will inform understandings of C. pneumoniae persistence strategies in the intact host and guide design of therapeutic regimens that effectively eradicate infection.
Education
M.D., Vanderbilt University School of Medicine
Ph.D., Vanderbilt University 
M.S., Murray State University