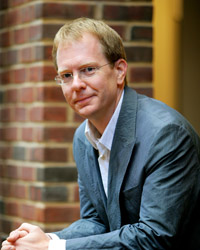 Edward (Ted) Fischer, Ph.D.
Center for Latin American Studies
Global Health Topic(s): Global Health Policy, Nutrition, Poverty
Country(ies): Guatemala, Germany
Research Interests: Nutrition, health and development, structural violence 
Edward F. Fischer is Professor of Anthropology and Director of the Center for Latin American Studies at Vanderbilt University. His recent work focuses on wellbeing, and what that means in the context of developing and well as developed countries. He has written or edited seven books, including  Broccoli and Desire and The Good Life. Fischer consults with WHO-Europe as an expert on wellbeing.  He also founded and directs the Mani+ project in Guatemala, which develops and produces treatments for chronic malnutrition. Fisher's work with VIGH includes multidimensional measures of poverty and health in Mozambique and a number of projects in Guatemala related to health and nutrition.
Education
Ph.D., M.A., Tulane University
B.A., University of Alabama at Birmingham