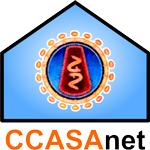 The Caribbean, Central and South America network for HIV epidemiology (CCASAnet) brings together the expertise and resources of Vanderbilt University and clinical and research sites in Argentina, Brazil, Chile, Haiti, Honduras, Mexico and Peru.
The goal of the CCASAnet project is to create a shared repository of HIV data from Central and South America and the Caribbean, to use the combined data to answer questions about the characteristics of the regional HIV epidemic, and to work together to improve the quality and consistency of clinical research activities at all member sites.
CCASAnet is a member of the International Epidemiologic Databases to Evaluate AIDS (IeDEA) consortium, a global network of researchers sponsored by the U.S. National Institute of Allergy and Infectious Diseases and the U.S. National Institutes of Health. The CCASAnet team collaborates with the members of other regional IeDEA networks in the development of international standards for sharing and analyzing HIV-related data.