International travel requests for global health rotations and research can now be considered! Please see the section below for "steps to request approval for international travel."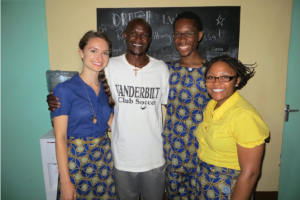 Responding to a growing need in U.S. academia for health care professionals equipped with global expertise in local and international settings, VIGH and VUSM have developed three distinct global health opportunities for third- and fourth-year medical students. As an element of the medical school curriculum, the overarching mission of Medical Student Research Curriculum at Vanderbilt is to educate our students about biomedical research through a series of coursework, training, and experience in order to help them develop their critical thinking, innovation, leadership, and moral and civic capacities to the fullest. Participation in global health research and training programs and other directed study provides students with the foundation necessary for future work as international clinicians and researchers. Students are encouraged to take advantage of the wealth of research opportunities both at Vanderbilt and beyond, including year-long, short-term, and summer training programs.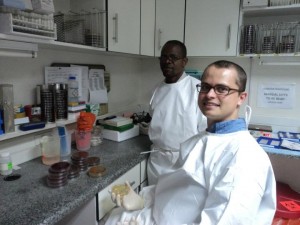 For a quick summary of global health opportunities available to medical students, view our PowerPoint.
For information about international travel, including safety, health, and culture, please refer to the links at the bottom of this page.
---
Asitha Jayawardena, a VUMC resident, was interviewed about the different ways that you can integrate Global Health into your research and career pathway 
---
Extend your global health experience through combining an ISC, AE, and/or Research Immersion!
Pairing these courses enriches your time abroad and provides you with deeper levels of knowledge and skills for residency and beyond! Below, Sarah and Kaitie reflect on their three-month ISC and Research Immersion in Lwala, Kenya.
---
The Integrated Science Course (ISC): Global Health is a one-month clinical rotation that introduces students to key topics and concepts in global health including diseases, conditions, and health interventions common in low-resource settings. Health and developmental issues across nations and cultures that require collective (partnership-based) action are highlighted. Placements at ISC sites are at Vanderbilt partner locations around the world including Guatemala, Jordan, Kenya, and Peru. This didactic course is taught through both a series of online global health modules that introduce students to key topics and concepts in global health and weekly virtual mentoring sessions with their VUSM faculty mentor. 
This four-week AE is an extension of the Global Health ISC and aims to provide clinical experience in the care of patients in low- and middle-income countries (LMICs), most often in resource-constrained environments. Students will assess the most common health problems encountered at the site, the usual treatment protocols, and how management differs from that in the U.S. or other developed countries. Students will learn how treatment and treatment decisions are influenced by local contexts, policies, and cultural components. In this AE, students will mindfully and ethically draw on their 'resourcefulness' to navigate the various constraints of working in resource-constrained settings. The hospital or clinic site is arranged by the student and approved by course director. Approval can be facilitated by Vanderbilt faculty involvement at the site. Students may elect to combine clinical work with language immersion studies (particularly Spanish). If the intended location is on the State Department Travel Alert List, additional approval will be required. Students are responsible for covering all of their personal expenses associated with the course and travel, but small amounts of funding may be available.

Our AE partner sites include:

China: Qilu Hospital of Shandong University 
Jordan: Jordan University Hospital
Mozambique: Universidade Eduardo Mondlane
Zambia: University of Zambia (UNZA) / University Teaching Hospital (UTH) 
A brief presentation about the global health research immersion (view the PowerPoint).

Through the VUSM research immersion in global health, VIGH supports medical students interested in expanding their knowledge of health issues of international significance. Potential projects span over two dozen countries where VIGH and Vanderbilt faculty have established partnerships. Research projects include a broad range of current themes in global health from medical sciences and clinical investigation to socio-cultural correlates of health and health care delivery. VIGH maintains a list of on-going global health research at Vanderbilt, referred to as the Global Health Opportunities Database, which may provide ideas for a potential research project.

Students are encouraged, but not required, to spend at least three to six months on-site. However, many students have spent one to two months abroad and completed the remainder of their research immersion months at Vanderbilt. Areas of investigation often include the assessment of community needs and plans to meet those needs, socio-cultural determinants of health and health behavior, health care delivery, basic science, clinical investigation, and implementation science. Students receive mentoring from Vanderbilt faculty and funding is available to off-set the cost of travel. It is our goal that students publish their research immersion project.

For more information about the VUSM research immersion and a list of potential faculty mentors, refer to the VUSM Community and Global Health Research page. 


Past medical student global health research projects:

Attrition of psychiatric patients at the Mental Health Commission of Ayacucho
Patient perspectives on opt-out HIV screening in a Guyanese emergency department
Use of non-invasive serum biomarkers in gastric cancer and precursor screening in Chile
Epidemiology of hearing loss in Olancho, Honduras
Delirium Occurrence and Outcomes in a Zambian ICU
Digital mobile technology as a screening tool for eye care in rural Nepal
Mixed methods study of family planning in Lwala, Kenya
Barriers to and facilitators of child survival in Lwala, Kenya
Identifying factors associated with loss-to-follow-up among pre-ART patients in Zambezia Province, Mozambique through interview and other qualitative methods
Assessing a community development project associated with a micro-lending of livestock to HIV infected persons
Analyzing questions critical to the effective development, distribution, and consumption of the GuateNut product
Respiratory Syncytial Virus / Asthma and Dengue in the Northern Argentina
Public health assessments in the Navajo Reservation in "The Four Corners" (Arizona, New Mexico, Utah, and Colorado)

VIGH Associate Director for Research, Muktar Aliyu, M.D., M.P.H, Dr.P.H, advises students interested in pursuing global health as an integrated part of their medical training.
Approval for Vanderbilt medical students (including MD and other medical master and doctoral degrees such as public health and pharmacology) to travel internationally for course credit is now being considered. As the COVID-19 Pandemic is still dynamic, travel and approvals may be subject to review. Before planning travel or registering in a global health course or international activity with travel, please review the US State Department's Travel Advisories. If you plan to travel to a country with a level 3 or 4 advisory, please follow the steps below, which should be initiated 30-90 days prior to intended travel. It may take 2-4 weeks for a travel approval decision to be made. Please do not purchase tickets or make reservations until final approval is received. Approval will remain contingent on the risk level of the countries you will be traveling in and through. 

STEP 1: Dean or Program Director endorsement

VUSM students should submit this form to provide information about their academic activity and international travel. Your Dean or Program Director will review your application. If endorsed, your application will be sent to Dr. Martin at the Vanderbilt Institute for Global Health (VIGH).

STEP 2: Dr. Martin endorsement

Dr. Martin will review your application. If endorsed, your application will be passed on to the Vanderbilt Travel Risk Assessment Committee (VTRAC). If not endorsed, you will receive additional information from Dr. Martin.

STEP 3: VTRAC review and endorsement

VTRAC will review your application. After review, your application will be sent to Dean Brady.

STEP 4: Dean Brady approval

Dean Brady will review your application and provide final approval. Once you have received approval, Dr. Martin and the VIGH education team (or your Program Director) will provide guidance on making flight reservations, which can be done through Concur or World Travel. If tickets are purchased through another system, please register your travel with Vanderbilt to be eligible for our free emergency evacuation service. When preparing for travel, students should use the Vanderbilt International Travel Safety and Security Checklist with COVID-19 Considerations.

 

Please note that Vanderbilt and VTRAC reserve the right to withdraw support for travel at any time if conditions shift in a dramatic way. 

 

 

 

 
For more information about any of these opportunities, contact Elizabeth Rose, Ed.D., M.Ed., M.P.H. (email or 615-322-9374)