Sten H. Vermund Award for Excellence in Global Health
Ndidiamaka "Didi" Odinkemelu

The Sten H. Vermund Award for Excellence in Global Health recognizes the graduating medical student who has most demonstrated a strong commitment to improving the health of the people of or from low- or middle-income countries through distinguished scholarship, education, and/or contributions to the improvement of clinical care. The award was established in 2017, to honor Dr. Sten H. Vermund who was the founding director of the Vanderbilt Institute for Global Health.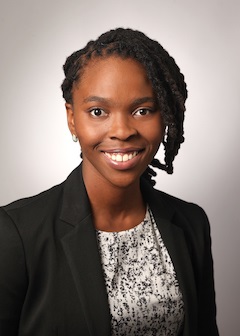 Didi Odinkemelu has a deep passion for health systems strengthening, capacity building, and clinical care in low-resourced settings. During her time at Vanderbilt, she has been involved many of Vanderbilt Institute for Global Health's (VIGH) programs including a Vanderbilt University School of Medicine (VUSM) Research Immersion in Liberia, Integrated Science course in Nigeria and on the Navajo Reservation, VIGH Case Competition, and Global Health Symposium. Didi completed the requirements for the Graduate Certificate in Global Health, illustrating her commitment to gaining the knowledge, skills, and competencies to be effective in the field of global health. This interest also motivated her to serve as the Global Student Surgery Alliance's International Experience Coordinator and influenced her choice of a global anesthesiology residency at the Hospital of the University of Pennsylvania.
Prior to Vanderbilt Medical School, Didi attended Northwestern University, where she studied French literature and science in human culture. While there, she nurtured her interests in global health and social medicine. In particular, she identified an interest in health systems strengthening and in medical school, sought out a research project in that space through the VUSM Research Immersion program. For this research project, Didi collaborated with VIGH, the Vanderbilt Department of Anesthesiology, the former Liberian Minister of Health, Dr. Bernice Dahn, and Liberian partners to explore challenges in anesthesia care in Liberia though a preliminary assessment of anesthesia capacity. The country's health workforce has been decimated by years of civil war and the recent Ebola epidemic, leaving it with no anesthesiologists and only a handful of surgeons for 4.5 million people. Didi's work has led to a greater understanding of the country's anesthesia capacity, detailed in two first-author manuscript submissions to top anesthesia journals.
Didi's commitment to vulnerable or marginalized populations has been demonstrated through her leadership in student organizations including Physicians for Human Rights (as Co-President and Vice President), the Global Student Surgery Alliance, and the Student National Medical Association (SNMA). Didi was awarded the National Community Service Award from SNMA and was recently nominated by peers and faculty for the Gold Humanism Honor Society. As one of 14 medical students chosen nationally for the 2019 Medical Program of the Fellowships at Auschwitz for the Study of Professional Ethics (FASPE), Didi participated in a two-week program in Germany and Poland, which explores the conduct of physicians in Nazi-occupied Europe as a way to reflect on current issues in medical ethics. She was also selected as a Fellow for the Cal Turner Program for Moral Leadership in 2019.