Hospital information
Komfo Anokye Teaching Hospital (KATH), Kumasi-Ghana is the second largest referral health facility in Ghana. The hospital is affiliated with Kwame Nkrumah University of Science and Technology School of Medicine and Dentistry (KNUST-SMD). KATH provides a wide range of medical and dental services including primary care and specialty services. KNUST-SMD students receive their clinical training from KATH. KNUST-SMD in collaboration with KATH provides options for medical students to rotate in various specialties through the ISC: Global Health course. Students are encouraged to do the one-month clinical rotation (ISC) with additional months to engage in research projects based on their interests. 
Potential Rotations 
Neurosurgery
Child Health/Pediatrics
Internal Medicine
General Surgery
Trauma and Orthopedic Surgery
Plastic Surgery
Urology
Obstetrics and Gynecology
ENT 
Ophthalmology
Anesthesiology and Intensive Care 
Community Health Research
 
Site information
Both KNUST-SMD and KATH are located in Kumasi, the capital city of Ashanti Region. English is the official language of Ghana; however, there are more than 80 languages and dialects spoken in Ghana. The local language spoken widely in Kumasi is Twi. No language proficiency is required. Students are encouraged to learn Twi phrases ahead of their trip. Language resource materials including "Twi for Medics" will be provided for students. 
Room and lodging is arranged by the International Programs Office (KNUST-IPO) and the medical students association (KNUST-MSA) exchange team. Accommodation is provided at the Clinical Students Hostel located on the hospital premises. Room and Lodging cost $50 for a month (subject to review based on currency exchange rate). Students fly into Accra and have the option of traveling to Kumasi by road (4-6 hours) or via a connecting flight (45 minutes). Airfare differs depending on the season with the cheapest ticket in Spring or Fall. Students should budget $1200-$2500. There is an Exchange Officer, usually a fifth-year KNUST-SMD student, assigned to assist students with transportation and food arrangement during their stay. There is internet available on site.   
Ghana has a rich culture and wide variety of food options that students will be exposed to during their stay. Opportunities are provided for sight-seeing in Kumasi as well as other regions in Ghana. Students should budget $200-300 for personal expenses for the month.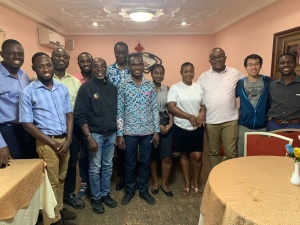 Student reflections
"This Global Health ISC has been an incredibly formative experience in shaping my perspectives of effective global health, appreciating alternative health systems and patients, and many more. I leave this month grateful for everyone here who welcomed us into their community, allowing us to explore openly and curiously about their medical practice and daily life. I leave here with a deeper understanding of how health and healthcare systems are related to culture and practices of the community."
"This time in Ghana was an invaluable experience to see global neurosurgery, and global medicine in general in action."
"Coming to Kumasi has allowed me to see a great example of kindness and how to welcome a foreigner into your community."