Global Health Academic Community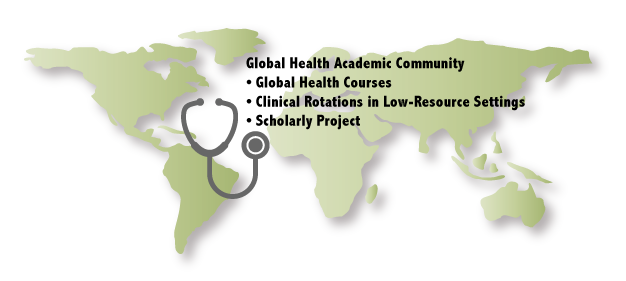 Objectives
Demonstrate an understanding of the diversity of challenges and strategies for Global Health and Development.
Critically assess complexities of global health issues, particularly those most applicable in low-resource settings.
Develop the ability to practice patient-centered care by improving awareness and communication skills with culturally diverse patient populations and staff.
Demonstrate cultural competency and engage in appropriate discussions about different perspectives and approaches to patient management and medical system design.
Describe the role of a visiting health care professional in maintaining a sustainable, ethically-responsible, and mutually beneficial relationship with the host institutions.
Complete a global health academic project/scholarly activity
Demonstrate peer teaching of Global Health issues
Competencies
Identify determinants of global health and development from an interdisciplinary vantage point.
Identify interventions used to ameliorate health and developmental problems, particularly in low-resource settings.
Recognize the role of advocacy in global health
Communicate public health principles and concepts through written and verbal means.
Apply evidence-based knowledge of health determinants to public health issues.
Employ ethical principles and behaviors, and exhibit cultural competence.
Promote cultural and ethnic diversity in public health research and practice.
Curriculum
Topics:
Introduction to Global Health
Preparing for an International Elective
Cultural Issues in International Service
Ethical Considerations for short-term clinical experiences abroad
International strategies to improve maternal mortality
International strategies to reduce under 5 mortality
Nutrition
Trauma and Injury
Mental Health
Health Systems
Multidimensional Poverty and Development
Refugee and Immigrant Health
Emerging Infections
Non-Communicable Diseases
Resident initiated project: All residents in the Global Health Academic Community will be required to complete a scholarly project or activity. This will be planned with Dr. Moon and the help of your international or local field site´s assigned Faculty supervisor. This project will be presented either in poster or oral presentation format at local (including Vanderbilt Department of Pediatrics Research Retreat) and/or national meeting (requirement for all members of community)
Required Reading: Reimagining Global Health by Farmer, Kim, Kleinman, and Basilico (Additional readings will be assigned for each session below)