Under the program, Molemolemo: Building Research Administration Excellence in South Africa, grant administrators from the Vanderbilt Institute for Global facilitate advanced research capacity through training and implementation of a structured grants management course with administrative leaders from Vanderbilt University Medical Center (VUMC). A significant focus and output of the collaboration with Aurum is the in-house development of a structured grants management training course for non-US-based organizations, which includes essential and elective modules.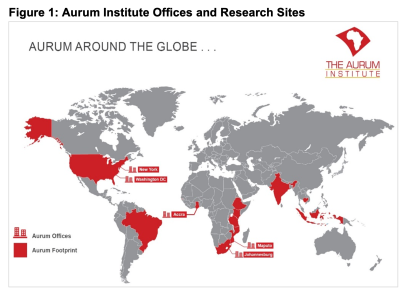 VUMC assists in providing a mixed-methods needs assessment of the research administration and management environment at Aurum and generates an action plan that will identify training needs, prioritize processes, and guide program implementation. With technical assistance and course materials from Vanderbilt, this program enhances and improves training in grants management and research administration. 
In the second year of the practicum at Vanderbilt, Aurum administrators will create video training modules to streamline the standardized grants management training program across the different Aurum entities in South Africa and elsewhere in Africa. Molemolemo means 'excellence' in Setswana, one of the 11 official languages in South Africa and widely spoken in the geographies in which Aurum operates.
In addition to recorded modules, the Aurum grants management team regularly leads virtual and in-person classroom training workshops per the developed training curriculum on various administrative topics ranging from proposal development through award closeout. 
The program enables the creation of a high-quality research administration environment at Aurum, our affiliates, and collaborating partners that is knowledgeable and compliant with sponsored research's fiscal and management standards. 
Bringing the administrative capacity of research administration to a higher level will enhance Aurum's excellence in the implementation of clinical trials in HIV, TB, and COVID-19. The Aurum Clinical Research Division has conducted more than 100 clinical research studies and has been involved in 16 NIH, and US Government funded clinical trials since June 2021, including a seven-year NIH grant for a Clinical Trials Unit (CTU) to drive the scientific agendas of two NIH HIV/AIDS Clinical Trials Networks: the HIV Vaccine Trials Network (HVTN) and the AIDS Clinical Trials Group (ACTG). The CTU is implementing multi-center studies that could help accelerate progress in finding new HIV and TB prevention and treatment options as part of a comprehensive epidemic response. Clinical research and epidemiologic and basic science studies have been conducted on TB drugs, vaccines, and diagnostics; HIV vaccines and antiretroviral drugs; and COVID-19 vaccines.
The Molemolemo award also allows Aurum to build on the partnership with VUMC, which started in 2020 with the appointment of Aurum staff members in various adjunct positions within the Department of Medicine at Vanderbilt University Medical Center.  

This program is supported by grant number G11AI169624.