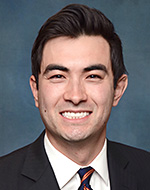 Casey Distaso, MD
Department of Emergency Medicine
< previous clinical faculty                    next clinical faculty >
FOCUS: User-centered design, human factors in healthcare, clinical decision support, cognitive fatigue, EHR usability
Dr. Distaso is an emergency medicine physician actively practicing in the Department of Emergency Medicine at Vanderbilt University Medical Center and the Nashville VA Medical Center. He attended medical school at Georgetown University School of Medicine, completed emergency medicine residency training at University of Chicago, and is currently completing a fellowship in clinical informatics. His interest in human factors and user centered design began while working at the MedStar Institute for Innovation's National Center for Human Factors. His current work focuses on designing and implementing clinical decision support applications that help providers deliver efficient and effective care for their patients.
Education & Training
BS – Georgetown University
MD – Georgetown University School of Medicine
MS – Applied Clinical Informatics, Vanderbilt University School of Medicine*
Emergency Medicine Residency – University of Chicago Medical Center
Clinical Informatics Fellowship – DBMI, Vanderbilt University Medical Center*
*Expected completion 7/2023
Research Information
Informatics & Health IT Related Research
Distaso C, Liput J, Spiegel T. UCARS Transport from the ED. University of Chicago Access Ride Service. Vizient Fall Connections Summit. October 2-4, 2018, Las Vegas, NV.
Hoffman DJ, Blumenthal J, Weldom DLM, Distaso C, Ratwani R, Hettinger AZ. A Novel Method in Building an Active Health IT Surveillance BlackBox: Medical Intelligence. AMIA Clinical Informatics Conference. May 8 - 10, 2018. Scottsdale, AZ.
Distaso C, Hettinger AZ. Electronic Health Record Usability: Applying Nielson's Heuristics to Medication Orders. 7th Annual George M Kober Research Day Program. April 23, 2018, Washington, DC.