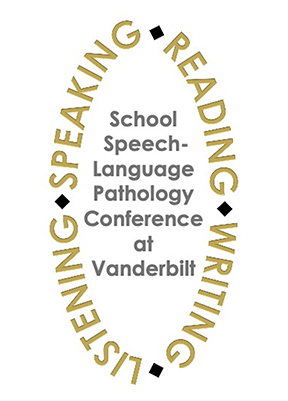 11th Annual School SLP Conference at Vanderbilt
August 3 and 4, 2023 
When?  In person and synchronous:  August 3 and 4, 2023, 8:30 - Asynchronous:  August 3 through August 31, 2023
     Daily Sessions: 8:30 - 10:30, 11:00 - 12:30, 1:45 - 3:15
Again this year, the School SLP Conference will be hybrid. The in-person and synchronous (remote) sessions will be held from 8:30 - 3:15 on August 3 and 4. Asynchronous (remote) access available from August 4 through August 31, 2023
What? A conference specifically designed to meet the professional development needs of school speech-language pathologists. but all SLPs who serve children and students ages 3 through 21 find the conference valuable! Across two days, participants can earn 10 hours of professional development from the sessions offered. Registration fee is $75.00. We plan to offer a selection of sessions in-person as well as remotely. 
Where? In-person attendance on the Peabody Campus of Vanderbilt University. Remote participants will access sessions online, synchronously or asynchronously, provided in early August.
We ask that you register no later than July 25, 2023 so that we are able to plan adequately for all participants. 
PAYMENT:
We ask that all registration be paid by July 25, 2023. If your district needs to pay in the next fiscal year, please let us know and we will note that payment will be received after July 1. All registration fees must be paid before the conference dates, unless prior arrangements have been made. 
1. Pay by credit card at: https://pay.instamed.com/vumc_hearing_speech  If you are paying for another individual, please place their name(s) in the memo space.
2. Pay by check by mailing check to : C. Melanie Schuele, 8310 MCE, 1215 21st Avenue South, Nashville TN 37232
3. Request an invoice at childlanguageandliteracylab@gmail.com
---
Click above for the agenda. Some changes may be made. Sessions that meet ASHA requirements for (a) ethics, (b) DEI, and (c) clinical supervision are noted on the agenda.
---
RESEARCH at the School SLP Conference
We have multiple research opportunities! We value your thoughts on clinical practice. 
Research Opportunity #1
Research Opportunity #2
We invite speech-language pathologists, teachers of the deaf, audiologists, or related professionals who works with children to participate in a survey research study. This survey is designed to gather information about the knowledge, skills, and needs for professionals related to serving the educational needs of deaf and hard of hearing (DHH) children. We are interested in input from professionals who have and have not served DHH children. Therefore, you do not need to have current or past experience working with DHH children to participate.
If you choose to participate in the study, you will complete a secure, anonymous online survey. We anticipate it will take approximately 30 minutes to complete. You will receive a $10.00 gift card for completing the study.
If you wish to participate in the study, please respond go to https://redcap.link/DHHneedsinterest and provide your email. If you wish to learn about more the study before providing your email, email us at: childlanguageandliteracylab@gmail.com
Research Opportunity #3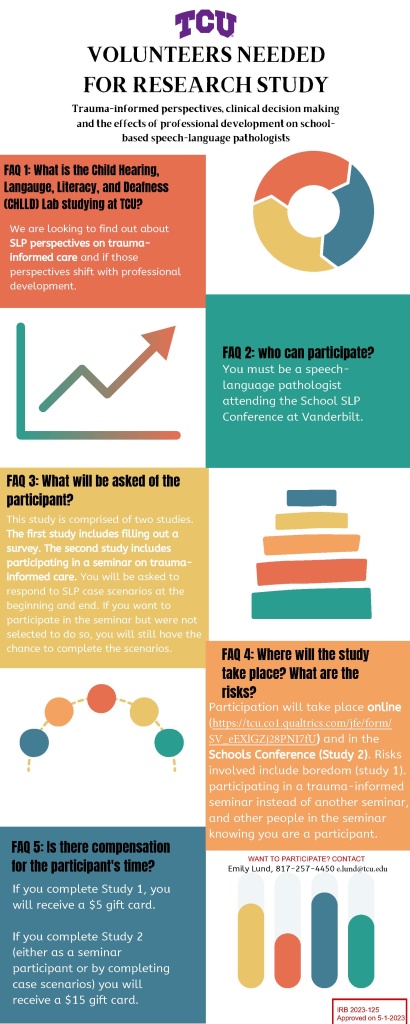 ---
 In-Person Attendees 
---
Parking Information
Vanderbilt University's parking office allows visitors to access paid hourly parking via the Parkmobile APP. Consider carpooling. There are multiple pay parking lots – we suggest you access one of the two on map of parking options (see link above). The Wesley Place Garage will be the easiest and here is the google address: 1921-2041 Scarritt Pl, Nashville, TN 37212
General information about parking on campus and access to the parkmobile app:  Visitor Parking | Parking Services | Vanderbilt University
If you arrive early, you may be able to find free parking on the streets surrounding campus. However, most streets are limited to only two hours of parking.
Please note: DO NOT park at the medical center, as these spots are reserved for patient visits. If you park in the medical center parking lots/garages, patients will be unable to find a space for their visits. So, it is essential that you DO NOT park in the medical center lots. Non-patient parkers will be fined and/or towed.
---
REGISTRATION
On Thursday morning, attendees will register from 7:30 - 8:15 at Room 241 at One Magnolia Circle (see map) and receive a schedule of sessions with assigned room numbers and a map of presentation locations.

Thursday and Friday Morning: Coffee and donuts
will be available during registration for purchase from our NSSHLA Chapter.
CASH and CHECK only.
FRIDAY TREAT!
Celebrate 11 years of professional development learning! Friday from 12:30 - 2:30 we will have 2 baristas  at One Magnolia Center to prepare delicious coffee and hot chocolate drinks for you! 
click on the link above
Internet Access
You will be able to access the guest network to have internet access during the conference. There is no password for the guest network.
---
REMOTE ATTENDEES
There will be a menu of sessions available for remote attendees. You may earn CE or PD credit for up to 10 hours of attendance/viewing. Synchronous viewing will be via a Zoom Link and asynchronous viewing will be via a Vimeo Link. Zoom links will be emailed to the email address you provided when you registered on the day before the conference (by 5 pm). The Zoom link will come from childlanguageandliteracylab@gmail.com via redcap.services@vumc.org. To be sure that you get the email, please place both of these addresses in your contact list. Because we have multiple remote sessions for each time block, we will upload the sessions as soon as possible and no later than 24 hours after the completion of each conference day. You will have until 11:59 pm on August 31, 2023 to access sessions. 
Need to complete any of these session? Supervision? Ethics? DEI?
If you attend the supervision session and need to indicate to ASHA that you have completed this requirement, you will go into your ASHA account and identify that you have completed this requirement. ASHA requires 2 hours of supervision training as a ONE TIME requirement.
If you need to complete the Ethics or DEI requirement in your current maintenance interval, you will keep a copy of your attendance certificate to show that you completed these requirements. How will ASHA know you completed the requirement? If you track you own hours, when you submit your compliance you will simply indicate that you completed all requirements. If ASHA tracks your hours, you will go into your account when you have completed all hours for this interval, certify that you completed all requirements, and submit the compliance. You will retain your conference certificate in case you need to show the at a later date which sessions you attended. (We get it. A pain. But it is what it is.)
---
ALL ATTENDEES
Handout links have been mailed to all attendees.
Complete REDCAP Survey to Record Conference Attendance
Each attendee will receive a personalized link from REDCAP to record participation in the conference and "claim" CE or PD credit. You MUST use your personalized link. Sharing links among participants will result in erasure of previously entered information. You will receive the link at 8 a.m. on the first day of the conference and every Friday in August thereafter from childlanguageandliteracylab@gmail.com via redcap.services@vumc.org. When logging on to the REDCAP  link --
You will provide your first and last name (If you are claiming ASHA CE, the name entered must match ASHA's records).
You will provide your email (If you are claiming ASHA CE, the email entered must match ASHA's records)
You will provide your mailing address (If you are claiming ASHA CE, the address entered must match ASHA's records)
For each presentation that you are claiming "credit" for, you will

select the presentation
provide 1 -2 sentences on what you learned
provide feedback to the presenter(s)

You can return to the survey multiple times. Thus, we suggest that you complete the REDCAP survey after each session/presentation. Because you have an individual link to the REDCAP survey, you do not need any additional information to access multiple times.
When you have completed all sessions/presentations that you wish to claim CE for, you will sign the survey and select SUBMIT. You must complete the survey by 11:59 pm on August 31.
When you submit, you will immediately receive a copy of your responses with the appropriate documentation such that this copy serves as your attendance certificate. Please IMMEDIATELY save this document. We will be unable to provide the document to you at a later time.
We will also ask you to provide some general conference feedback that assists in program evaluation and planning for 2024.
If you indicate that you want your attendance sent to ASHA CE Registry, we will do this in September. If often takes several weeks for ASHA to post to your registry. You should check on October 31 that your hours were recorded in the ASHA registry. Note: You must have paid the ASHA CE Registry fee for ASHA to track your CE credit: https://www.asha.org/ce/CEUs/
---
SLPs from these school districts in TN will participate in the conference this year!
Achievement School District
Bedford County School District
Carter County School District
Cheatham County School District
Chester County School District
Claiborne County School District
Coffee County School District
Decatur County School District
Dickson County School District
Franklin School District
Gibson County Special District
Hamblen County School District
Hamilton County School District
Hickman County School District
Houston County School District
Huntingdon School District
Jackson County School District
Johnson City School District
Kingsport School District
Lewis County School District
Loudon County School District
Marshall County School District
Maury County School District
Meigs County School District
Metropolitan Nashville Public Schools
Montgomery County School District
Moore County School District
Paris School District
Putnam County School District
Roane County School District
Robertson County School District
Smith County School District
Sumner County School District
Tipton County School District
Trousdale County School District
Union County School District
Washington County School District
Wayne County School District
Williamson County School District
Wilson County School District
Our conference dates for 2024 will be set once Metropolitan Nashville Public Schools sets their 2024-25 academic calendar (which usually happens in October). As a result of your participation in this conference, we will place you on our mailing list (with the email you provided) and you will receive notification of the 2024 conference dates. Our newsletter comes from childlanguageandliteracylab@gmail.com and to be sure to receive information, please add this address to your contact list.