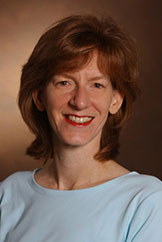 C. Melanie Schuele PhD
Hearing and Speech Sciences
Office Address
Medical Center East, South Tower
615-936-5256 (office) or 615-293-4681 (cell)
C. Melanie Schuele (PhD, Child Language Doctoral Program, University of Kansas), the director of the Child and Language Literacy Lab, is a professor in the Department of Hearing and Speech Sciences at Vanderbilt University. She has secondary faculty appointments in the Departments of Special Education and Psychology and Human Development in Vanderbilt's Peabody College.
Dr. Schuele is a portfolio coach in the Vanderbilt University School of Medicine for medical students in the Medical Innovators Development Program. Within the Department of Hearing and Speech Sciences, she serves as the director of the school speech-language pathology specialty track (Master's SLP Program). With Dr. Alex DaFonte in the Department of Special Education she co-directs a personnel preparation grant focused on preparing SLP and SPED graduate students to work with students with intellectual disabilities in school settings. Dr. Schuele additionally serves as faculty on the Vanderbilt Consortium LEND (Leadership in Neurodevelopmental Disabilities) training grant.
Dr. Schuele is a fellow of the American Speech-Language-Hearing Association.
Clinical Interests
Dr. Schuele is a speech-language pathologist, certified by the American Speech-Language-Hearing Association (since 1985) and licensed in the State of Tennessee. Her clinical areas of expertise include preschool and school-age children with language impairment, specifically children often described as having specific language impairment or developmental language disorder. She has expertise in phonological awareness, early literacy, and complex syntax development.
Research Information
Dr. Schuele's research focuses on the development of complex syntax, early reading skills, and phonological awareness in children with specific language impairment and typical language learners. Dr. Schuele's research has been funded by the National Institute of Health-National Institute of Deafness and Other Communication Disorders, American Speech-Language-Hearing Foundation, and the Schubert Child Development Center at Case Western Reserve University. The US Department of Education has funded her projects to prepare (a) masters degreed speech-language pathologists to provide speech/language services in schools and address the interface of language, literacy, an academic achievement, and (b) PhD students to prepare for academic careers in language and literacy. She is currently Co-Investigator with Dr. James Booth and Dr. David on a project funded by NIH/NIDCD that explores the reading skills of children with moderate to severe hearing loss. 
Dr. Schuele has been published in Language, Speech, and Hearing Services in Schools, Clinical Linguistics and Phonetics, Journal of Speech, Language, and Hearing Research, Education and Early Development, Journal of Deaf Education, and Applied Psycholinguistics. She collaborated from 2001-07 with the West Virginia Department of Education on their WV Phonological Awareness Project, a statewide project to promote phonological awareness instruction in kindergarten and first grade. Dr. Schuele has served the American Speech-Language-Hearing Association in several capacities:  Editor (2013) and Associate Editor (2007-09) of Language, Speech, and Hearing Services in Schools, Publications Board (2013),  Research and Scientific Affairs Committee (2004-10; Chair 2008-10), and Lessons for Success Steering Committee (2008-12).
Current research projects include:
the reading skills of children with hearing loss who use ASL as primary mode of communication and/or who use hearing aids [Dr. James Booth, project PI, funded by NIDCD/NIH]
development of an instructionally-relevant measure of phonological awareness - Measure of Phonological Awareness (MOPA) [Collaborators: Dr. Hannah Krimm, Dr. Sylvia Liang]
adaptation of Sam Books to promote listening comprehension alongside early word decoding in early readers
complex syntax intervention for preschoolers, subject relative clauses