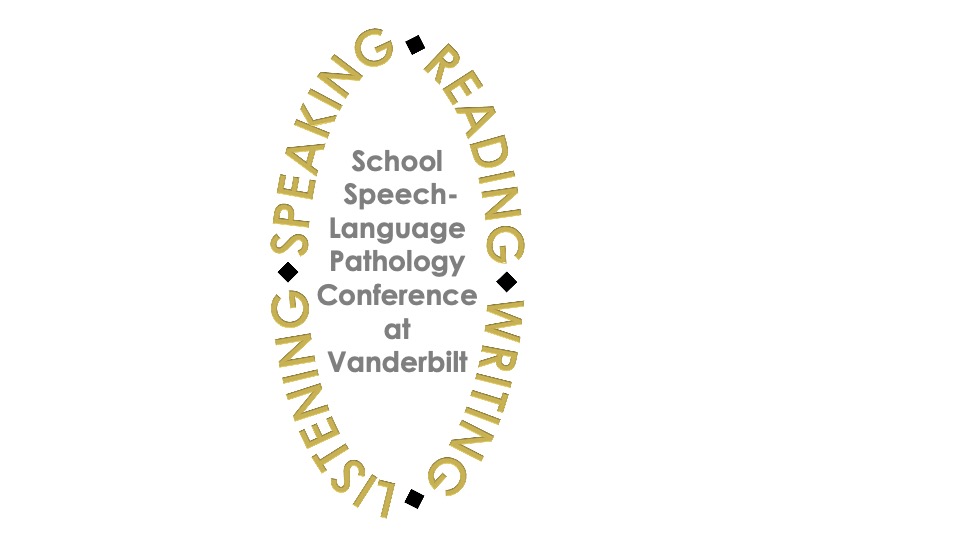 10th Annual School SLP Conference at Vanderbilt
When?  August 4 and 5, 2022 On-site conference from 8:30 - 3:45 daily. Remote conference session access available synchronously or asynchronously, through August 31, 2022
What? A conference specifically designed to meet the professional development needs of school speech-language pathologists. Across two days, 10 hours of professional development is provided. 6 streamed/recorded sessions will be available for remote participants. In-site participants can choose 1 of 3 or 4 presentations per session. Registration fee is $75.00.
Where? In-person attendance on the Peabody Campus of Vanderbilt University. Registration on Thursday August 4, 7:45 to 8:15 am in Wyatt building.
REGISTRATION LINK: https://redcap.link/9df4yxx1
PAYMENT LINK: https://pay.instamed.com/vumc_hearing_speech  If you are paying for another individual, please place their name(s) in the memo space.
---
In-Person Attendees 
---
Parking Information
Vanderbilt University's parking office allows visitors to access paid hourly parking via the Parkmobile APP at $3.50 an hour. Consider carpooling. There are multiple pay parking lots – we suggest you access one of the two on  map of parking options (see link above). The Wesley Place Garage will be the easiest and here is the google address: 1921-2041 Scarritt Pl, Nashville, TN 37212
General information about parking on campus and access to the parkmobile app:  Visitor Parking | Parking Services | Vanderbilt University
If you arrive early, you may be able to find free parking on the streets surrounding campus. However, most streets are limited to only two hours of parking.
Please note: DO NOT use any of the medical center parking options, as these are reserved for patient visits. If you park in the medical center parking lots/garages, patients will be unable to find a space for their visits. So, it is essential that you DO NOT park in the medical center lots. Non-patient parkers will be fines and/or towed.
---
Getting from Wesley Place to the Wyatt Center for Registration
Follow the map to walk from Wesley Place Garage to the Wyatt Center 
What does Wyatt building look like?
On Thursday morning, attendees will register from 7:45 - 8:45 and receive a schedule of sessions with assigned room numbers and a map of presentation locations. You will NOT need to register on Friday - you can go directly to your first presentation session. (NOTE: MNPS employees, follow directions provided by your Leads). 
---
REMOTE ATTENDEES
You will have access to one presentation for each session. Synchronous viewing will be via a Zoom Link and asynchronous viewing will be via a Vimeo Link. Zoom links will be emailed to the email address you provided when you registered on the day before the conference (at noon CDT). The Zoom link will come from childlanguageandliteracylab@gmail.com via redcap.services@vumc.org. To be sure that you get the email, please place both of these addresses in your contact list. The Vimeo links will be shared at the end of each day, at about 5 pm and will come from the same email addresses. 
---
ALL ATTENDEES
Complete REDCAP Survey to Record Conference Attendance
Each attendee will receive a personalized link from REDCAP to record participation in the conference and "claim" CE or PD credit. You MUST use your personalized link. Sharing links among participants will result in erasure of previously entered information. You will receive the link the day before the conference (at noon CDT) from childlanguageandliteracylab@gmail.com via redcap.services@vumc.org. When logging on to the REDCAP  link --
You will provide your first and last name (If you are claiming ASHA CE, the name entered must match ASHA's records).
You will provide your email (If you are claiming ASHA CE, the email entered must match ASHA's records)
You will provide your mailing address (If you are claiming ASHA CE, the address entered must match ASHA's records)
For each presentation that you are claiming "credit" for, you will

select the presentation
provide 1 -2 sentences on what you learned
provide feedback to the presenter(s)

You can return to the survey multiple times. Thus, we suggest that you complete the REDCAP survey after each session/presentation. Because you have an individual link to the REDCAP survey, you do not need any additional information to access multiple times.
When you have completed all sessions/presentations that you wish to claim CE for, you will sign the survey and select SUBMIT. You must complete the survey by 11:59 pm on August 31, 2022.
When you submit, you will immediately receive a copy of your responses with the appropriate documentation such that this copy serves as your attendance certificate. Please IMMEDIATELY save this document. We will be unable to provide the document to you at a later time.
We will also ask you to provide some general conference feedback that assists in program evaluation and planning for 2023.
If you indicated that you want your attendance sent to ASHA CE Registry, we will do this in September. If often takes several weeks for ASHA to post to your registry. Note: You must have paid the ASHA CE Registry fee for ASHA to track your CE credit: https://www.asha.org/ce/CEUs/
---
Our conference dates for 2023 will be set once Metropolitan Nashville Public Schools sets their 2023-24 academic calendar (which usually happens in October). As a result of your participation in this conference, we will place you on our mailing list (with the email you provided) and you will receive notification of the 2023 conference dates. Our newsletter comes from childlanguageandliteracylab@gmail.com or ; to be sure to receive information, pleamelanie.schuele@vumc.orgse add this address to your contact list.