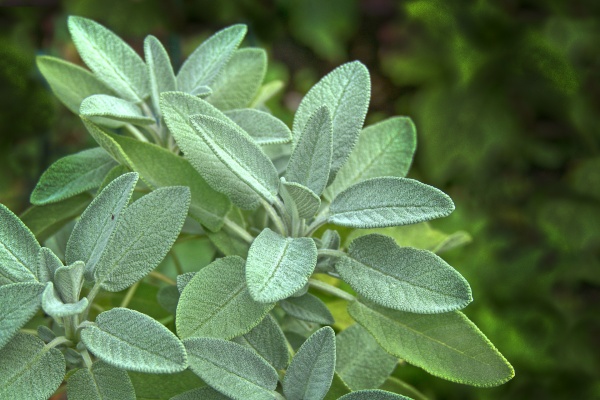 Sage is an essential herb for any garden because it compliments so many dishes well. It often adds a nice aromatic flavor to meats (mostly chicken or turkey), but it can also be used as an excellent addition to pasta sauces, soups, stews, or creating your own stocks. Sage goes very nicely with winter squash such as butternut and acorn squash. It is a perennial herb that typically grows a few feet in height and flowers mid-summer.
Growing Tips
Light Requirements: Full Sun.
Space Requirements: 12-16 inches
Water Requirements: Keep sage well watered and consider mulching to help prevent evaporation especially in dry times.
Soil Requirements: Nutrient-rich and well-draining soil
Harvesting: Snip small leaves or a couple of leaves at a time as needed. 
Storage: Sage can be frozen in ice cubes, stored in oil, or dried.
Nutritional Information
Calories: 2
Total Fat: 0.1 g
        Saturated Fat: 0.1 g
        Trans Fat: 0 g
Cholesterol: 0 mg
Sodium: 0 mg
Total Carbohydrate: 0.4 mg
         Dietary Fiber: 0.4 mg
         Sugar:
Protein: 0.1 g
Vitamin A: 41 IU
Vitamin C: 0 mg
Calcium: 12 mg
Iron: 0.2 mg