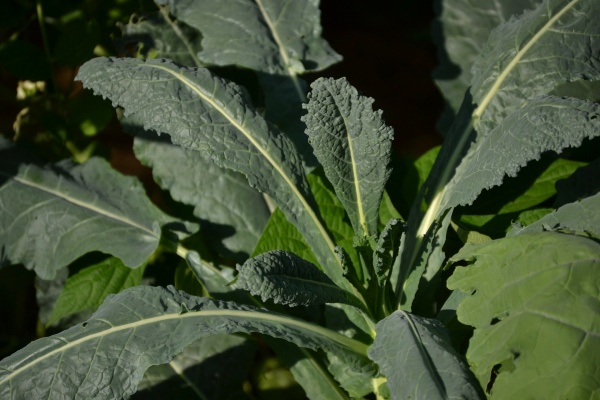 Lacinato is a variety of kale that is known for being a tender and very vigorous plant. One of the surprising characteristics of kale is that with every frost it gets a bit sweeter in taste. This variety of kale is great for raw salads because of its tenderness.
Growing Tips:
Light Requirements: Full sun.
Soil Requirements: Nutrient rich and well-draining soil.
Water Requirements: Keep the soil moist and consider mulching to prevent evaporation.
Harvesting: Pick the outer leaves as needed, once they are 6-8 inches long. Consider harvesting after the first frost for a sweeter flavor.
Storage: Store in the refrigerator in a sealed bag for 5-7 days.
Nutritional Information:
Calories: 33
Total Fat: 0.5 g
        Saturated Fat: 0.1 g
        Trans Fat:
Cholesterol: 0 mg
Sodium: 29 mg
Total Carbohydrate: 6.7 g
         Dietary Fiber: 1.3
         Sugar:
Protein: 2.2 g
Vitamin A: 10302 IU
Vitamin C: 80 mg
Calcium: 90 mg
Iron: 1.1 mg
Recipes: