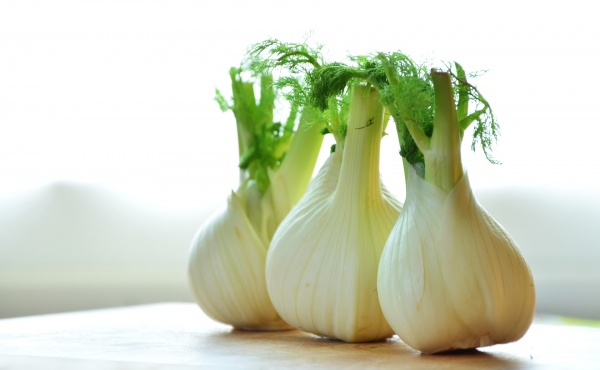 Fennel is another fall delight that has a surprising flavor. At first, it looks unfamiliar, but this hearty aromatic plant is actually in the same family as carrots! It is a great addition to a fall salad, or it can be sauteed as you would use an onion. The big surprise is that fennel has a very floral and licorice-like flavor.
Growing Tips:
Light Requirements: Full sun.
Soil Requirements: Nutrient rich, and well-draining soil. Keep mulch off the stem to prevent any rot.
Water Requirements: Keep the plants well-watered. 
Harvesting: Takes 80-85 days to mature.
Storage: Separate the leaves from the stalks. Both can be kept in the refrigerator in a plastic bag for a few days.
Nutritional Information:
Calories: 72
Total Fat: 0.5 g
        Saturated Fat: 
        Trans Fat:
Cholesterol: 0 mg
Sodium: 122 mg
Total Carbohydrate: 17.1 g
         Dietary Fiber: 7.3  g
         Sugar: 
Protein: 2.9 g
Vitamin A: 314 IU
Vitamin C: 28 mg
Calcium: 115 mg
Iron: 1.7 mg