Primary Goals
To elevate patient care by addressing ethical concerns
To improve the process of deliberation about important healthcare decisions  
To enhance mediation of conflicts by bringing someone from the "outside"  
To reduce the moral distress of staff members, patients, and families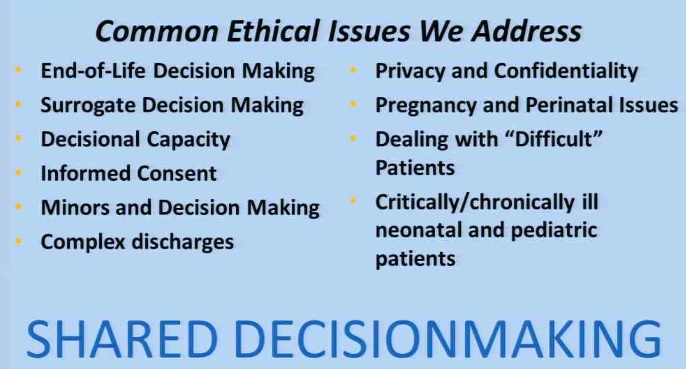 The Consult Service is staffed by RN, MD, and PHD faculty who have extensive experience working toward solutions that are respectful and acceptable to all the parties involved. All clinical ethics consultations incorporate the following fundamental objectives:
To promote careful, respectful communication among VUMC faculty, staff, and patients, and their surrogates and family members.
To assist in identifying and clarifying ethical questions and broader ethical issues in clinical care.
To advise on ethical questions as they arise in specific patients' care, with a focus on reasonable treatment options, associated outcomes, and the patient's rights and best interests.
Components of Ethics Consultations
Clinical Ethics Consultations range in scope and complexity, depending on the complexity of the issue and circumstances being considered. Typically, ethics consultants provide one or more of the following:
Information on VUMC policy, national ethical guidelines, and available resources for addressing clinical ethical issues;
Interpretation of policy and guidelines related to clinical ethics to enhance the quality of care provided;
Review of goals of care;
Negotiation and conflict resolution;
Recommendations for next steps.
If you have specific question about the Clinical Ethics Consultation Service, please contact the director of the service, Joseph B. Fanning  at 615-936-2900 or joe.fanning@vanderbilt.edu.