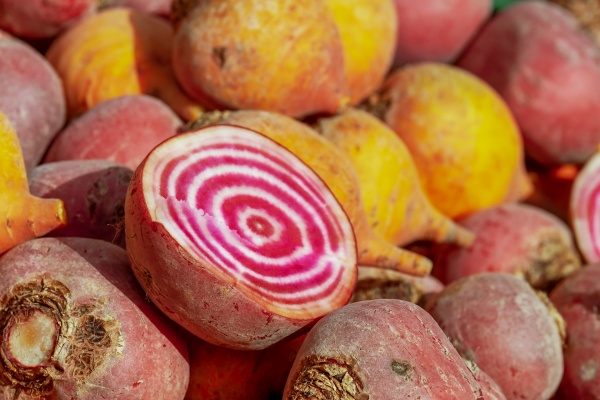 Chioggia beets are a delicious heirloom variety of beet that look very different  than the deep red or purple that we commonly associate with beets. Their white and pink spiraled center adds great color to a plate of vegetables, and they are a great addition to a salad.
Growing Tips:
Light Requirements: Full sun.
Soil Requirements: Nutrient rich, and well-draining soil.
Water Requirements: Keep the plants well-watered. They typically need about 1 inch of rain per week.
Harvesting: Typically takes about 55 days to mature. Harvest greens when they are 4-6 inches tall roots when they are 1-3 inches.
Storage: Harvested beets can be stored in a bag in the refrigerator. 
Nutritional Information:
Calories: 35
Total Fat: 0.1 g
        Saturated Fat: 
        Trans Fat:
Cholesterol: 0 mg
Sodium: 64 mg
Total Carbohydrate: 7.8 g
         Dietary Fiber: 2.3 g
         Sugar: 5.5 g
Protein: 1.3 g
Vitamin A: 27 IU
Vitamin C: 4 mg
Calcium: 13 mg
Iron: 0.7 mg
Recipe