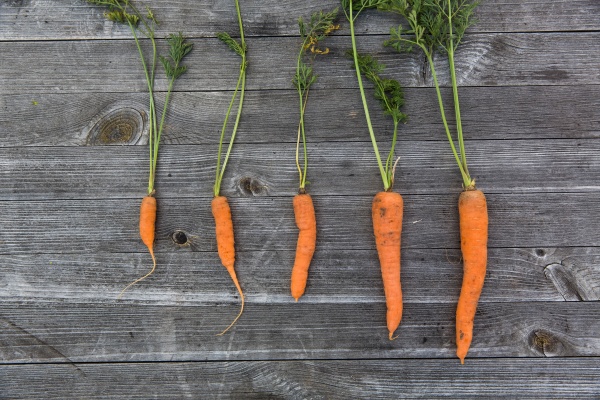 Carrots are a familiar root vegetable that many of us grew up with. When they are fresh, carrots have an undeniable sweet flavor that adds a nice crunch to salads, or they can be a classic addition to a vegetable plate. In the fall and winter, carrots are a welcomed addition to soups and stews.
Growing Tips:
Light Requirements: Full sun.
Soil Requirements: Nutrient rich, and well-draining soil. Carrots do best if they are sowed directly as seeds.
Water Requirements: Keep the plants well-watered. Watering needs to be deep and frequent to develop bushy tops, which will prevent "green shoulders" on the carrot.
Harvesting: Before harvesting, give the carrot bed a good soaking, this will help the roots release after pulling.
Storage: Cut the green tops 1/4-1/2 inch above the shoulder. Store the in a plastic bag in the refrigerator for about 1 week Consider blanching and freezing for longer storage.
Nutritional Information:
Calories: 52
Total Fat: 0.3 g
        Saturated Fat: 
        Trans Fat:
Cholesterol: 0 mg
Sodium: 88.3 mg
Total Carbohydrate: 12.3 g
         Dietary Fiber: 3.6  g
         Sugar: 6.1 g
Protein: 1.2 g
Vitamin A: 21383 IU
Vitamin C: 7.6 mg
Calcium: 42.2 mg
Iron: 0.4 mg