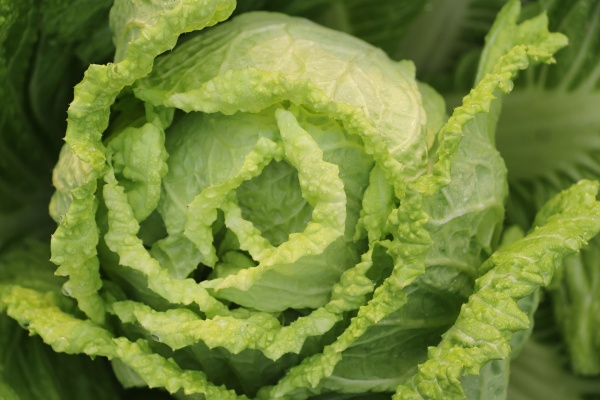 Cabbage is a welcomed addition to a fall garden both because of its beauty and its versatility after its harvested. Cabbage can be used to make slaws, fermented to make kimchi and sauerkraut, or it can be roasted, which brings out its inherent sweetness. Bilko cabbage is in the VUMC garden this fall, and it is known for its dark green color and mild sweet flavor.
Growing Tips:
Light Requirements: Full sun.
Soil Requirements: Nutrient rich, and well-draining soil.
Water Requirements: Keep the plants well-watered. 
Harvesting: Heads are ready to harvest when they are firm.
Storage: Remove the first few outer leaves, wrap in a paper bag, and can last for several weeks in a refrigerator.
Nutritional Information:
Calories: 21
Total Fat: 0.1 g
        Saturated Fat: 
        Trans Fat:
Cholesterol: 0 mg
Sodium: 16 mg
Total Carbohydrate: 5 g
         Dietary Fiber: 2.2  g
         Sugar: 2.8 mg
Protein: 1.3 g
Vitamin A: 150 IU
Vitamin C: 29 mg
Calcium: 40 mg
Iron: 0.5 mg