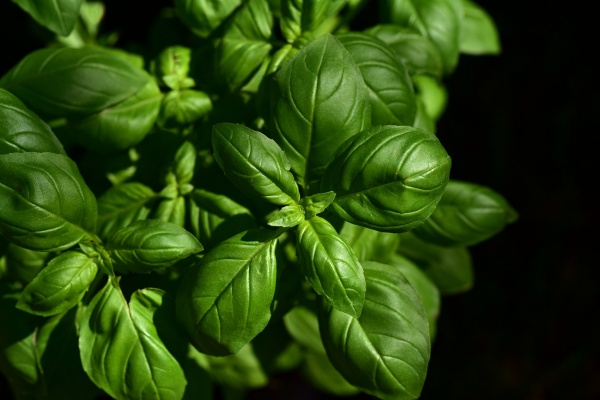 Basil is a summertime herb that adorns countless dishes from pasta to caprese salad. It comes in many different varieties and can be used in tea, pesto, or chopped fresh in a salad. It is native to Africa and Southeast Asia, but it certainly grows well here in Middle Tennessee.
Growing Tips:
Light Requirements: Ideally full sun, but it will grow well with some shade.
Soil Requirements: Nutrient-rich and well-draining soil.
Water Requirements: Keep soil moist and add mulch to keep down evaporation.
Space Requirements: Plant 8 to 18 inches apart.
Growing Tips: Make sure to pinch off the flowers to keep the leaves growing.
Harvesting: Snip individual leaves or whole stems.
Storage: Place harvested basil in a vase of fresh water.
Nutritional Information:
Calories: 0 g
Total Fat: 0 g
Cholesterol: 0 mg
Sodium: 0 mg
Total Carbohydrate: 0.1 g 
         Dietary Fiber: 0.1 g
         Sugar: 0 g
Protein: 0 g
Vitamin A: 132 IU
Vitamin C: 0 mg
Calcium: 4 mg
Iron: 0.1 mg
Recipes: