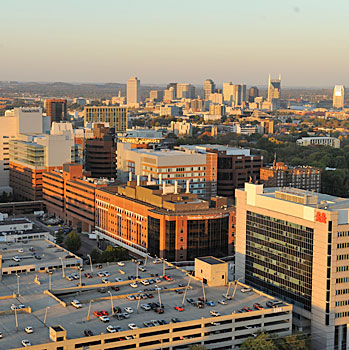 Thank you for your interest in Vanderbilt University Medical Center. As a renowned institution with a focus on providing excellence in health care, research and education, we take pride in a thoughtful and comprehensive hiring process.
Through the exceptional capabilities and caring spirit of its people, VUMC leads in the delivery of exemplary health care, improving the lives of individuals and communities regionally, nationally and internationally. We combine transformative educational programs, compelling scientific discoveries, and distinctive personalized care to achieve this goal. Founded in 1873, we offer a rich history and a contemporary environment for the talented employees that make up our workforce of 24,000.
Our professional Talent Acquisition Team sources talent locally, regionally and nationally to attract the best and the brightest to our Medical Center. If you meet the requirements for one of our opportunities, you can expect a phone screening from a Talent Acquisition Recruiter to review your resume, understand your competencies and assess your fit to our environment. If it is determined that you are a potentially strong fit, the Talent Acquisition Recruiter will guide you through the remaining steps in the process.
Employment at Vanderbilt comes with a set of mutual expectations. We give you the preparation you need to succeed on the job and investment in you as a member of our community. You support our mission with your talents and commit to our culture of mutual respect where we protect our resources and make those we serve our highest priority. Best of luck in your job search and thank you for your interest in working at Vanderbilt University Medical Center.
To search for a job, click on the appropriate link to the right.
---
Vanderbilt University Medical Center is an Equal Opportunity Employer and prides itself on its commitment to diversity.