Central Sterile Processing Technician Program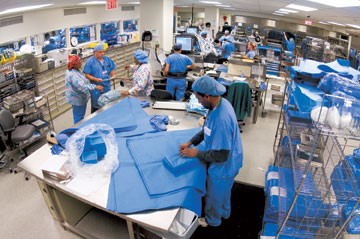 About the Program
Central Sterile Processing Technician (CSPT) is a partnership between Nashville State Community College (NSCC) and Vanderbilt University Medical Center, in the Center for Programs in Allied Health. This program provides a unique opportunity for students to pursue a health career that is in high demand and gain employment as a CSPT at Vanderbilt University Medical Center.
Enrolled students complete a rigorous didactic curriculum at NSCC with courses in competent entry-level central processing technicians in the cognitive (knowledge), psychomotor (skills), and affective (behavior) learning domains and prepare them to successfully complete the certification exam of their choice. Coursework is reinforced through the hands-on clinical application of content learned at VUMC under the supervision of clinical preceptors.
Students will be prepared to support a variety of surgical settings, which includes setting up operating rooms for surgical procedures, sterilizing instruments, gathering supplies, and delivering the proper equipment ahead of surgery. The program is built on a solid foundation of knowledge in anatomy, medical terminology, and microbiology. Students receive specialized training in what surgical instruments are, the handling and use of instruments for specific surgical procedures, and the clinical setting experience needed for employment. The program includes extensive classroom time as well as practical experience in clinical settings which prepares students for all major job duties in central processing and distribution facilities.
Curriculum
10 week* classroom learning at NSCC
8 week clinical experience at VUMC
240 hours of hands-on clinical experience at VUMC
Certification test prep
Weekly check-in meetings
*Program length is expected to change in 2023 based on industry standards. Please continue to check the website and attend information sessions to learn about any changes.
Admission Requirements
Must submit NSCC Application for Admission
Must have high school diploma or GED
Must have satisfied all ENGL and READ learning support and ESOL requirements in English and reading prior to starting the program (Match not requried)
Must submit a complete CSPT program application by the appropriate deadline
Selection will be based on a composite score consisting of point from GPA, critical thinking assessment (Insight Assessment), and courses taken towards the program. 
How to Apply
Please contact the VUMC CSPT program staff for more information on how to apply. 
CSPT Program Director - Derrick McLean at john.d.mclean@vumc.org
Administrative Director of Perioperative Services - Kester Verdadero at kester.f.verdadero@vumc.org
---