Comparative Pathology 
Our focus is on two primary service goals, comprehensive pathology support for basic science and rapid, accurate diagnosis of pathogens to maintain colony health.
---
Veterinary Pathologist Consultation
Anatomic Pathology Services (includes Mouse Phenotyping)
---
Veterinary Pathologist Consultation
Consultation with a Veterinary Pathologist on animal studies is available and highly recommended for new TPSR users. Veterinary Pathology Support is provided by ACVP Board Certified Veterinary Pathologists who are experienced in experimental design, optimal tissue collection and staining options as well as gross and histopathologic evaluation. Please contact Dr. Katherine Gibson-Corley directly to set up a meeting to discuss the project and establish the best strategy and timeline to meet the project goals.
Anatomic Pathology Services
Phenotyping Services
The following baseline testing can be performed:
General evaluation of the live animal
Body weight
Organ weights
CBC (Complete Blood Count)
Serum Chemistry Profile
Gross Necropsy
Microscopic evaluation all organ systems
Publication-quality digital imaging of gross and microscopic findings
Additional diagnostic tests or specialized imaging may be recommended to further characterize unique phenotypes.
What to provide:
To most accurately evaluate a genetic line, we request that you provide age-matched, sex-matched, litter mate animals when possible.
For initial phenotyping, we recommend that animals be analyzed at 8 to 12 weeks of age.
A RedCap submission form must be completed prior to submission.
Testing must be scheduled with TPSR-Comparative_Pathology@vumc.org in advance.
If you require consultation with a Veterinary Pathologist, contact Katherine Gibson-Corley before submitting animals to the TPSR.
Evaluating Male Infertility
To evaluate infertility in male mice, we perform the following tests:
Body weight
Testicle weight
Sperm count
Sperm morphology
Sperm motility
Histologic evaluation of testicles and accessory sex glands
Diagnostic Services
Hematology Services
Complete blood count (CBC)* includes the following tests:

WBC (white blood cell count)
Five-part differential: Seg (segmented neutrophils), Lymph (lymphocytes), Mono (monocytes), Eos (eosinophils), Baso (basophils)
RBC (red blood cell count)
HB (hemoglobin)
HCT (hematocrit)
MCV (mean corpuscular volume)
MCH (mean corpuscular hemoglobin)
MCHC (mean corpuscular hemoglobin concentration)
RDW (red cell distribution width)
PLT (platelet count)
MPV (mean platelet volume)
* Note: When complete blood counts are performed as a routine part of a research project, they should be scheduled with the laboratory a minimum of 48 hours in advance.
Blood Smear Stained
Blood Smear Unstained
Reticulocyte Stain
Manual White Blood Cell Count
Manual Red Blood Cell Count
Manual Platelet Count
Hematocrit (HCT) or Packed Cell Volume (PCV)
Total Protein Analysis
Collecting and Handling Blood Samples for Hematology Analysis
A blood cell count is only as accurate as the sample collected. The following guidelines are recommended to ensure consistency from sample to sample.
To obtain the most accurate results, we request that you provide a minimum volume of 50 μL whole blood in 3 μL EDTA. If smaller volumes are required for your project, please contact us at TPSR-Comparative_Pathology@vumc.org to discuss the options.
Our instrumentation will provide the most accurate results when EDTA is used as the anticoagulant.
The maximum ratio of blood to anticoagulant in the sample should be 10:1.  Increasing the anticoagulant volume will result in clotting and an inaccurate blood count.
After blood is transferred to an Eppendorf tube, the sample must be mixed thoroughly for a minimum of 15 to 20 seconds by gently thumping the side of the tube.
Blood samples should be submitted at room temperature.
Blood samples with evidence of blood clots will not be processed.
We are happy to assist you in project planning.  If you have any questions, please contact us at TPSR-Comparative_Pathology@vumc.org.
Parasitology Services
Anal Tape for Pinworms
Direct Fecal Examination for Protozoa
Fecal Flotation for Endoparasites
Direct Skin Examination for Ectoparasites
Total Pelt Examination for Ectoparasites
Chemistry Services
We send our chemistry samples to the Antech GLP lab for analysis. You can find information on available chemistry tests and sample volume requirements below:
Clinical Chemistry Minimum sample for one test 150 μL. Up to 20 tests can be performed on 350 μL of frozen serum. Separate from cells within 1 hour of collection.
Albumin
Alkaline Phosphatase (ALP)
Alanine Aminotransferase (ALT)
Aspartate Aminotransferase (AST)
Amylase
Bilirubin, Direct
Bilirubin, Total
Calcium
Chloride
Cholesterol
Creatine Kinase
Creatinine
Gamma Glutamyl Transferase (GGT)
Glucose
Lactate Dehydrogenase (LD)
Lipase
Magnesium
Phosphorous
Potassium
Sodium
Triglycerides
Total Protein
Urea Nitrogen
Pricing
Please contact us at TPSR-Comparative_Pathology@vumc.org
Chemistry Test on Mouse Model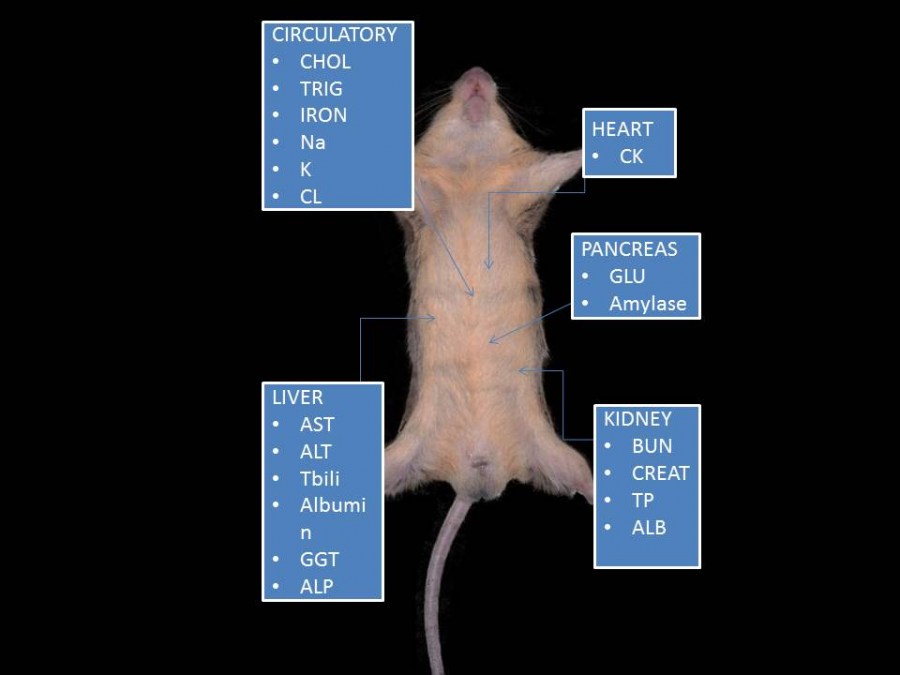 Specialized chemistry tests can be performed using outside laboratory services.
Cell Line Testing
All cell lines (e.g. murine, human) and biological materials (e.g., antibodies, serum) that are to be injected into an animal must be tested prior to passage.
Testing is done by PCR assay and the results are usually ready in 7 to 10 days.
Specimens submitted must contain at least 1x106 cells/mL tissue culture medium.
Click here for Submission information
Click here for Submission form
Please contact us at TPSR-Comparative_Pathology@vumc.org with any additional questions.
Microbiology (currently send out service)
Bacteriology Services
Aerobic Cultures
Anaerobic Cultures
Antibiotic Sensitivity