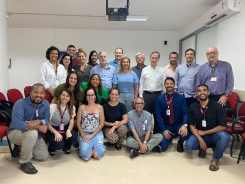 The Regional Prospective Observational Research for Tuberculosis (RePORT) - Brazil Semi Annual Meeting was held October 17th through October 21st in Salvador, Bahia. Investigators and staff from throughout the network participated in a variety of workshops, presentations, and collaborative planning sessions, both in-person and from remote locations. 
https://news.vumc.org/2022/09/29/vumc-lands-grant-to-build-top-line-biosafety-facility/
Vanderbilt University Medical Center has been awarded a nearly $8 million grant from the National Institutes of Health to construct a state-of-the-art BioSafety Level 3 (BSL3) facility for research involving the COVID-19 virus, anthrax and other dangerous microorganisms. When the renovation of about 3,500 square feet of existing space is completed, the facility will include three BSL3 suites with separate entrances and seven procedure rooms capable of securely containing multiple organisms at the second-highest biosafety level.
The U.S. Centers for Disease Control and Prevention (CDC) Tuberculosis Trials Consortium (TBTC), together with collaborators from the National Institutes of Health's (NIH) AIDS Clinical Trial Group (ACTG), is pleased to announce the publication of "Four-Month Rifapentine Regimens with or without Moxifloxacin for Tuberculosis" in the New England Journal of Medicine.