If you are interested in participating in research, please contact:
Sarah Marler, MA, CPA
Program Coordinator
615-936-3288
sarah.marler@vumc.org
---
Autism Research
​
Adult Medication Study – Autism
We are looking for individuals, ages 15-45 years old, for a study involving a new investigational medication for Autism. 
The study will assess the effects of the investigational medication on 'high functioning' adults with autism spectrum disorder (ASD). The investigational study medicine is aimed in treating social communication deficits in participants with ASD. 
The total duration of the study for each participant will be up to 24 weeks (approximately 
5.6 months), divided as follows: 
- Screening period of at least 2 and up to 4 weeks 
- Study pre-baseline and baseline period (2 weeks) 
- Study treatment period with fixed dose (12 weeks) 
- Safety and efficacy follow-up period (6 weeks) 
Throughout the treatment period, participants will take daily doses of either the one of two doses of an investigational study medication or a placebo (a look-alike) that contains no medicine. Both the investigational study medication and the placebo are small tablets that should be swallowed whole with something to drink. 
Participants will visit a study clinic about 10 times throughout the study. This will allow the study team to assess the participants' general health, social communication skills and social interaction skills. Visits may include questionnaires, blood/urine samples, cognitive testing or physical exams at no cost to you. Compensation will be available. 
Depression Research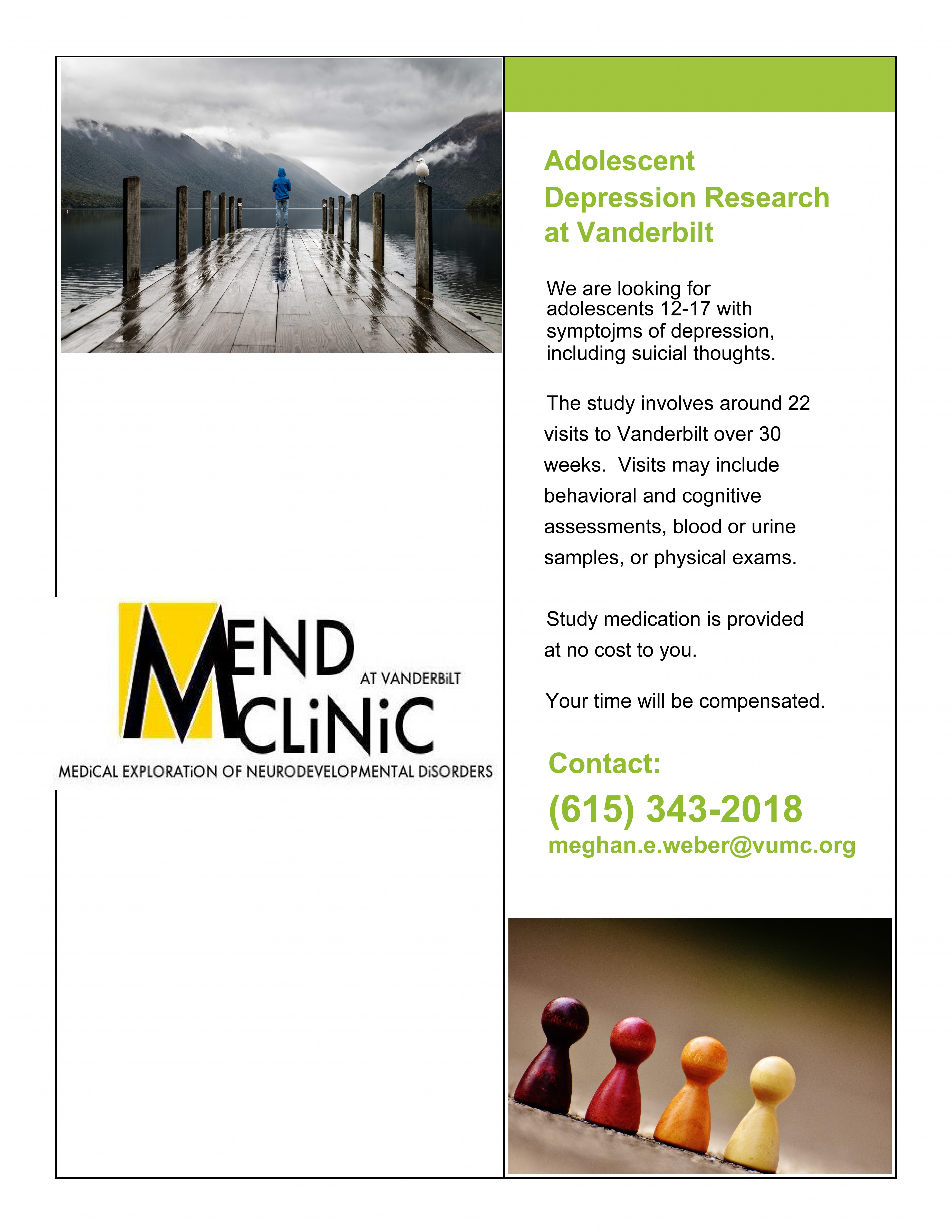 ​
The purpose of this study is to evaluate the effects of an investigational medication on depression symptoms, including suicidal thoughts. The side effects of the investigational medication will also be studied. All patients who join the study will receive two study medications in addition to standard care, which includes hospitalization, antidepressant medication, and talk therapy. Patients who do not join the study will receive standard care according to their doctor's instructions.
The study is divided into three periods: 
1. Screening. If you would like your child to be in this study, the study doctor will first determine if he or she is eligible to participate. This is called screening. Screening must be completed within 48 hours of taking the study medication. 
2. Treatment. Treatment lasts 25 days. If eligible to participate, your child will receive the study medication or placebo in the hospital or at the study clinic eight times during the study drug period. Your child will be seen twice a week.
3. Follow-up. Your child will be followed closely in the study clinic for 25 weeks after the last dose of study medication. The follow-up period will consist of two phases: the initial post-treatment phase (Days 26–80) and the extended post-treatment phase (Days 81–200). Your child will be seen weekly at the study clinic for the first month of follow-up, then every other week for the following month. During the first two weeks after treatment stops, the study staff will contact your child by phone between visits to the clinic (Days 28 and 35). After Day 81, visits will be once a month. Your child will visit the study clinic a total of 10 times during the follow-up period.
Fragile X syndrome Research
No current trials in FXS. Please keep checking back and sign up for our newsletter for more updates!
Down syndrome Research
No current trials in Down syndrome. Please keep checking back and sign up for our newsletter for more updates!