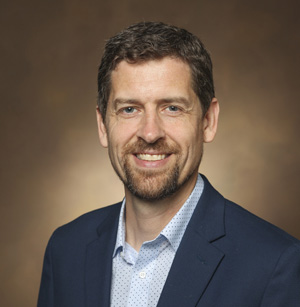 Robert Carnahan, Ph.D.
Vanderbilt Vaccine Center
Pediatrics and Radiology and Radiologic Sciences
Dr. Carnahan received his BS in Biology and BS in Psychology from Indiana University.  After several years working for Eli Lilly in the US and in Strasbourg, France, he returned to academics as a visiting researcher at the Institut Pasteur in Paris, France.  He subsequently returned to the US to complete his Ph.D. in Cell Biology at Vanderbilt University where he studied the mechanisms regulating actin ring formation and activation in cytokinesis in the laboratory of Kathy Gould, Ph.D.  His post-doctoral studies in the laboratory of Al Reynolds, Ph.D. focused on the functions of both the cell adhesion regulator p120 and its interaction partner Kaiso.  In 2006, he was appointed as Director of the Vanderbilt Antibody and Protein Resource (VAPR).  During his time leading this institutional shared resource lab, he has guided a technology expansion from being a lab one focused exclusively on generating monoclonal antibodies, to one that now has expertise in wide array of molecular approaches, including antibody and recombinant protein engineering, diagnostic and assay development, and biologics cell line development.  Numerous NIH shared instrumentation awards and other grants totaling nearly $2.5 million awarded to Dr. Carnahan have provided the needed infrastructure for this technology expansion. In addition to directing the VAPR, Dr. Carnahan is an Associate Professor in the Cancer Biology, Faculty director of the Management and Entrepreneurship for Scientists program, a member of the Medical School admissions IAC committee, and is a faculty instructor for both M.D. and Ph.D. training programs.  In 2010 he co-founded the Antibody-Technologies Research Group.  This international group, part of a larger scientific organization (Association of Biomolecular Resource Facilities), collaborates to develop technical standards, advances in methodologies, and training opportunities for antibody lab directors and personnel.  Within the Association of Biomolecular Resource Facilities he has also served in numerous other national and regional leadership roles, including most recently as the President of the Southeastern chapter from 2015-2016.  Dr. Carnahan is also a recognized expert in Lean Laboratory management practices.  He has not only developed and implemented Lean Lab strategies within the VAPR lab, but has served as a consultant and an invited speaker on this topic across the US. He is a member of both the Association of Biomolecular Resource Facilities and The Antibody Society.  Dr. Carnahan is married to Nikki Carnahan, and they have two children.