Robert Freundlich, MD, MS, MSCI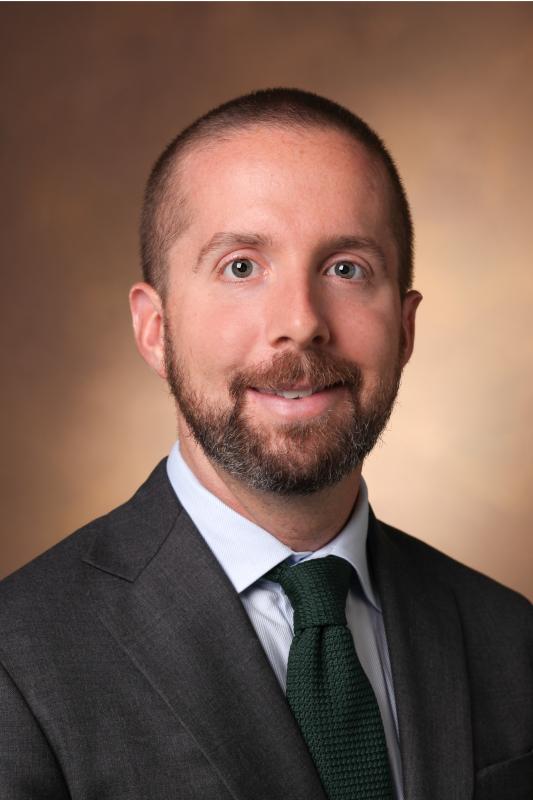 Dr. Robert E. Freundlich was born and raised in New Jersey. He received his Bachelor's and Master's degrees from Johns Hopkins University, followed by his MD at Baylor College of Medicine. He completed residency, critical care fellowship, and a post-doctoral research fellowship at the University of Michigan, where he focused on clinical informatics projects and implementation of the Multicenter Perioperative Outcomes Group (MPOG). He then completed the Master of Science in Clinical Investigation at Vanderbilt. He is currently an Assistant Professor in the Department of Anesthesiology at Vanderbilt University Medical Center, with a secondary appointment in Biomedical Informatics. He divides his time between clinical anesthesiology, cardiovascular critical care, clinical informatics, and research. In his spare time he enjoys running and spending time with his wife, two daughters, and dog.
Jonathan Wanderer, M.D., M.Phil, FASA, FAMIA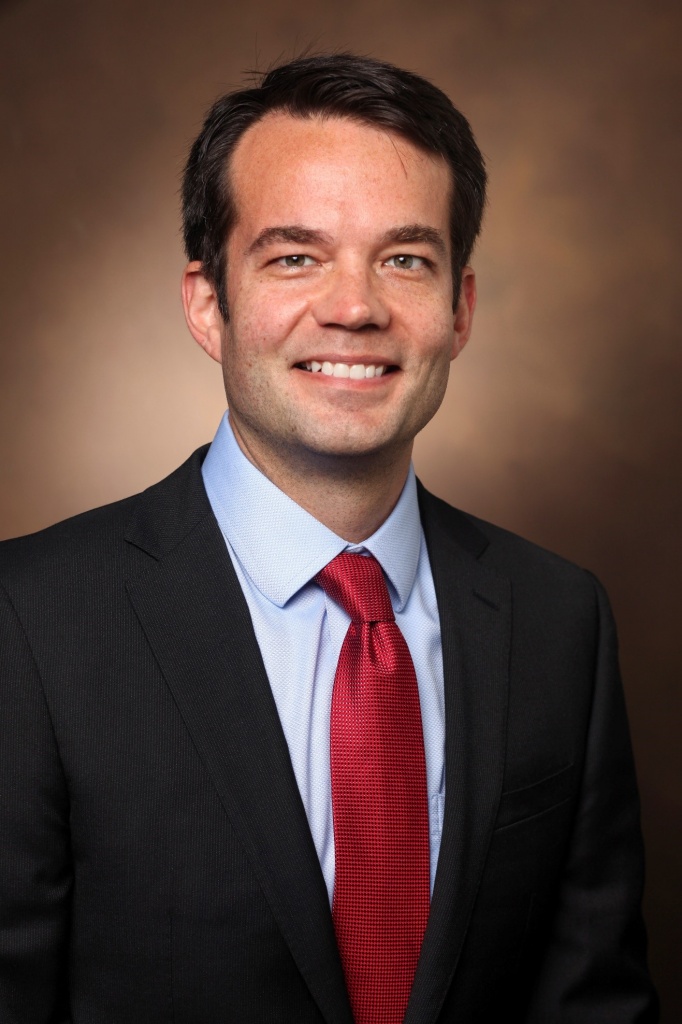 Jon Wanderer an anesthesiologist at VUMC focused on applying clinical informatics to advance medicine, with a deep background in electronic health records, clinical decision support and data science. He enjoys developing novel technology-based solutions for complex operational and research challenges within surgical and inpatient care.
At Vanderbilt, he is the Associate Fellowship Director for the Clinical Informatics Fellowship Program and co-course director for the Foundations of Clinical Informatics in the Masters of Applied Clinical Informatics Program. He leads Vanderbilt's Physician Builder program and a Medical Director of Perioperative Informatics. At the Anesthesia Quality Institute, he is Vice Chair for the Registry Operations and Data Definitions Committees, and is on the Board of Directors for the Society for Technology in Anesthesia. He also serve on Epic's Anesthesiology Specialty Steering Board, and is Associate Medical Director for the Vanderbilt Anesthesiology and Perioperative Informatics Research (VAPIR) Division and Vanderbilt's Preoperative Evaluation Center.
Christina Boncyk, MD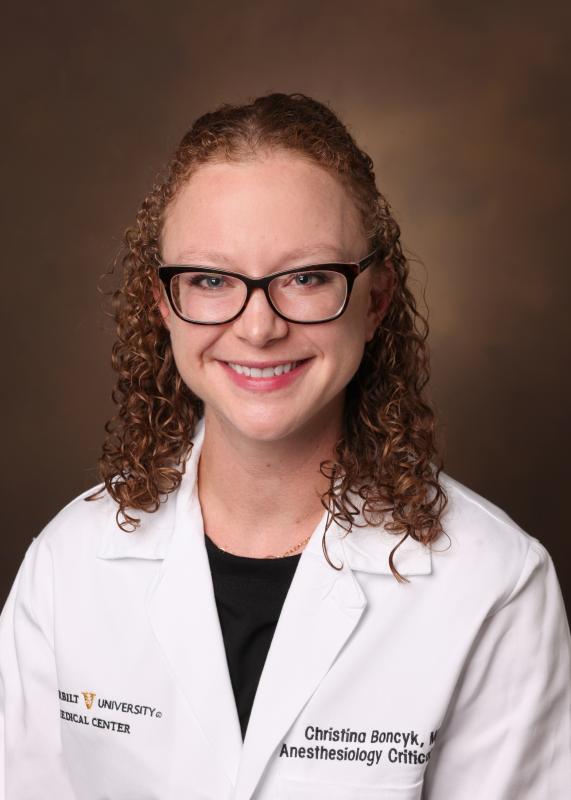 Christina Boncyk, MD is an Assistant Professor in the Department of Anesthesiology, Division of Critical Care Medicine at Vanderbilt University Medical Center. She graduated summa cum laude from Northern Michigan University where she received a Bachelor of Science in Biochemistry. She received her Doctor of Medicine degree from the University of Wisconsin School of Medicine and Public Health in 2013 and stayed in Madison to complete her residency in Anesthesiology at the University of Wisconsin Hospital and Clinics. She then completed her critical care medicine fellowship at Vanderbilt University Hospital in 2018 before joining the faculty and receiving a T32 research training grant.
Her research efforts involve patient outcomes following ICU survival with long-term research interests including identification, management, and de-escalation of potentially inappropriate medications administered during and after critical illness.
Betsy DeMarcus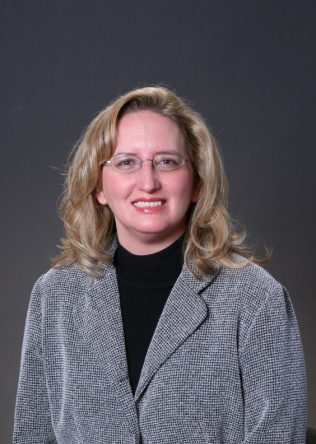 Elizabeth DeMarcus is the Associate Director in the Department of Anesthesiology at VUMC and the administrative manager for the VAPIR division. She received her Bachelor of Science degree in Business Administration at Belmont University and completed her Masters of Management in Healthcare at Vanderbilt University.
Elizabeth began working at VUMC in 2004 as a payroll manager. Her previous experience includes working as a Financial Analyst, Accounts payable manager and Interrogator Linguist in the US Army.
In her spare time, Elizabeth loves spending time with her family, watching football and playing with her dogs.
Pam Butler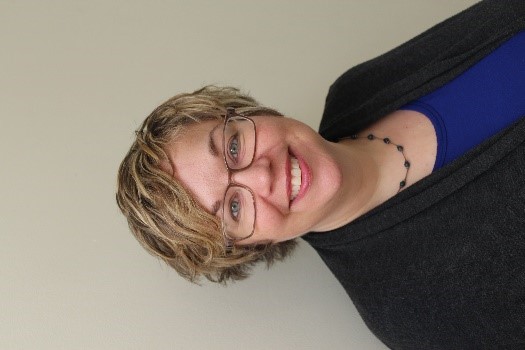 Pam Butler graduated from Valparaiso University in Valparaiso, Indiana with a B.S. in Business Administration, Finance Concentration. Born in Chicago, IL, she grew up in Holland, MI, and then moved to Franklin, TN in 1991 after spending nearly a year working in London, UK and traveling around Western Europe.
Pam worked in healthcare I/T at HCA for 10 years, during which time she also owned and operated a retail yarn store in Green Hills (1994-2008). After a number of years working on the data entry side of the equation, Pam discovered an interest in analyzing the data and pivoted her career by enrolling in and graduating from the first full-time Data Analytics Bootcamp at Nashville Software School in 2020. She now works as a BI Analyst for the VUMC Anesthesiology VAPIR team and enjoys using data to improve medical outcomes and research.
Pam is married to Jeff, who works in I/T at Parallon (HCA), and they live in Franklin, TN with their two daughters, Zoe and Alexandra.
Jacob Clifton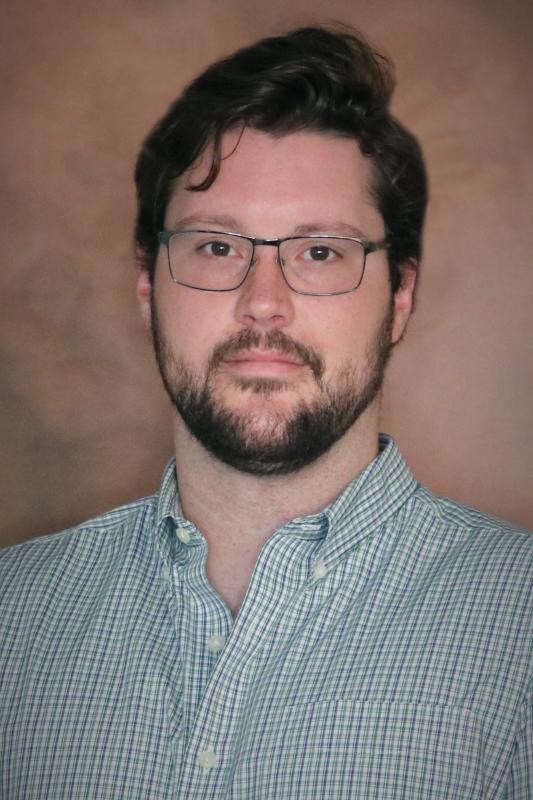 Jacob Clifton was born and raised in Nashville, TN. In 2016, he received a Bachelor of Science in Mechanical Engineering from the University of Tennessee – Knoxville, where he double majored in Economics. In 2017, he moved to Santiago, Chile to participated in Georgetown University's Master of Economics program in conjunction with Universidad Alberto Hurtado. After completing his Masters, Jake moved back to Nashville and joined the Vanderbilt Anesthesiology and Perioperative Informatics Research (VAPIR) team in 2019 as a Statistical Analyst. While working full-time as a statistician with the VAPIR team, he also received a certificate of completion from the Vanderbilt Data Analytics Bootcamp in 2020. His background in engineering, economics, and proficiency in multiple coding languages, coupled with his passion for expanding his library of knowledge, brings a unique background to the team. To date, he has published 2 peer-reviewed papers in various journals, with 2 currently pending decision, and 2 more in the pre-submission stages.
Mark Garrison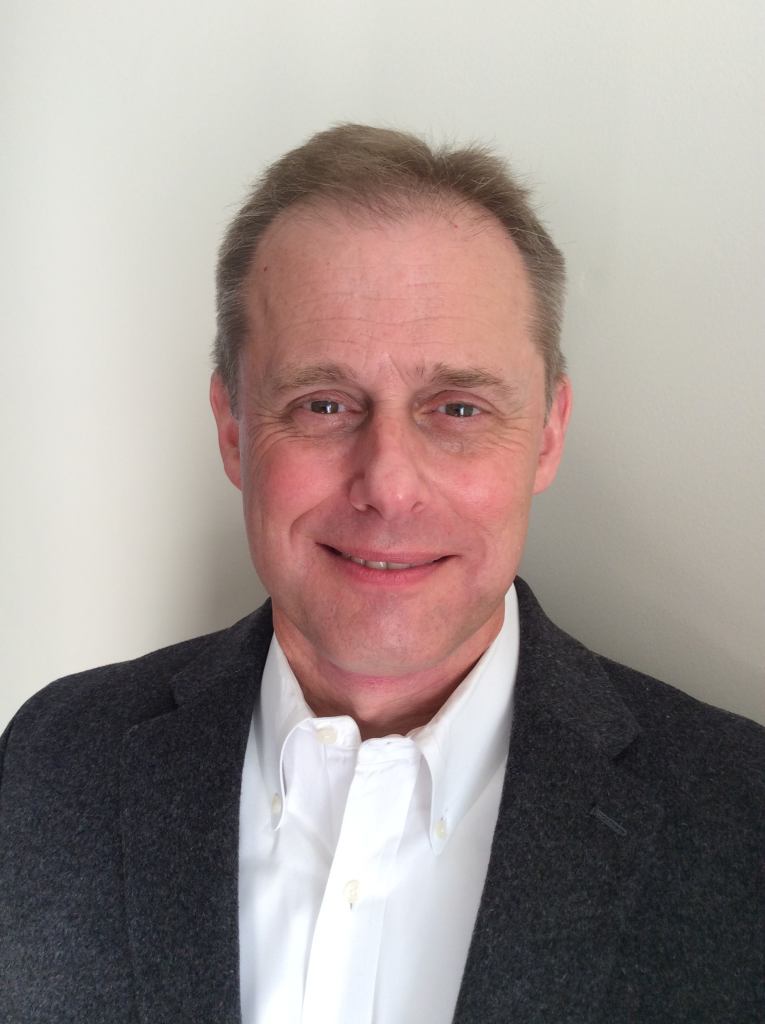 Mark Garrison grew up Griffin, GA and moved to Nashville in 1986 to attend Belmont University, majoring in Music with a Business Administration minor. Upon graduation in 1989, Mark began a career as a retail chain inventory analyst where he first recognized his love for working with data, discovering insights, and driving sound decision-making. In 2019, he determined to pivot into the world of analytics/business intelligence, embarking on a journey of self-education and networking to learn the various tools and establish a presence in the data space. Mark's journey has happily culminated in his joining the VAPIR team in 2021 as a Business Intelligence Analyst.
Mark lives in Nolensville with his wife Amy, a Speech & Language Pathologist.
Ralph Gyasi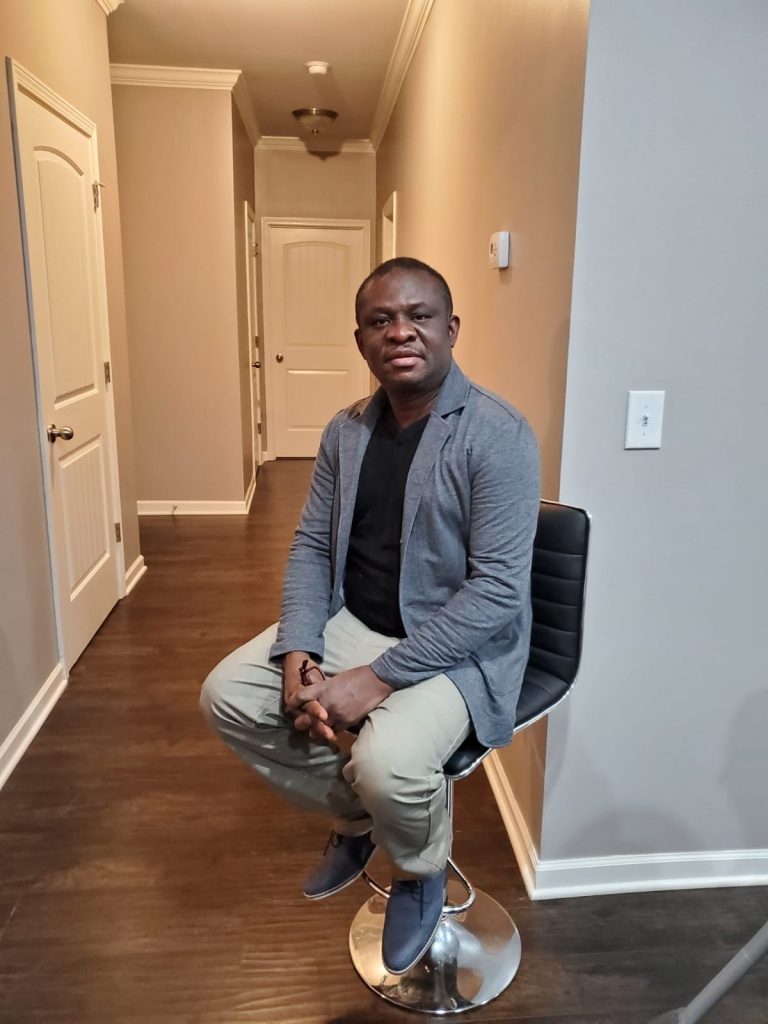 Ralph was born and raised in Kumasi, Ghana. He is currently pursuing a Master's degree in Information Systems at DePaul University, Chicago. He graduated from the Kwame Nkrumah University of Science and Technology (KNUST) with a Bachelor of Science degree. After graduation, he underwent a year-long internship at Humboldt University of Berlin, Berlin Germany.
Ralph moved to Nashville in 2010 and worked with Grace Unlimited Technologies as SQL Server DBA/Report Developer from October 2015 till December 2018. He joined the VUMC's VAPIR team in January of 2019 as a Database Administrator. Ralph lives in Smyrna, TN with wife Portia and 3 children Isaac, Michele and Denisa.
Karen McCarthy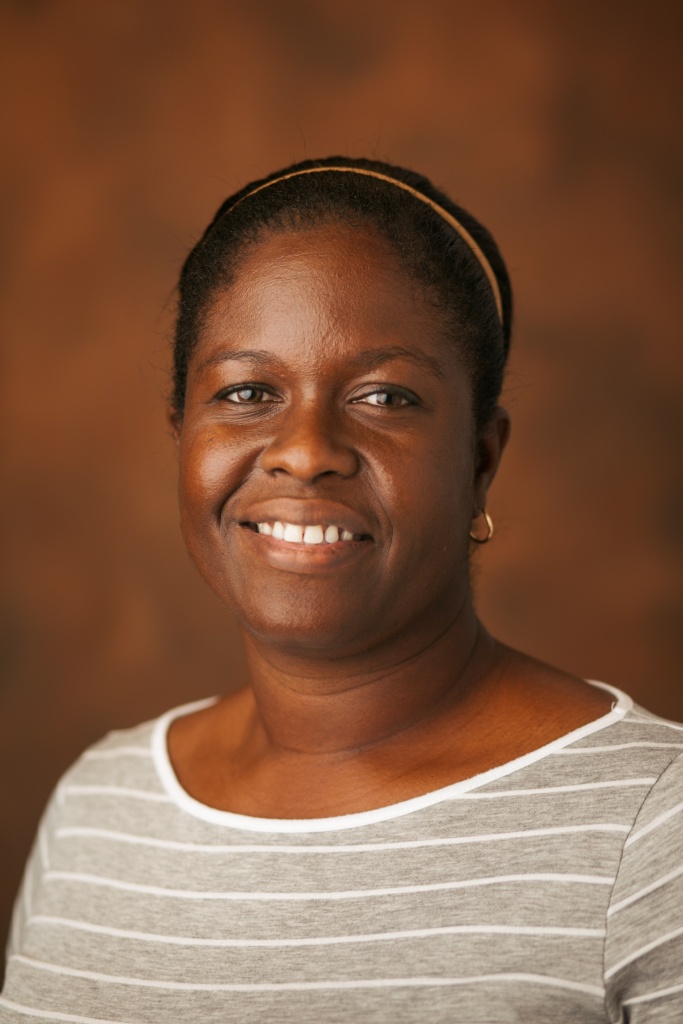 Karen McCarthy is the Team Lead and Sr. Database Administrator on the VAPIR team. Karen has twenty three years of information technology experience across different industries such as finance, marketing and entertainment. It is the knowledge that she is impacting patient care and hospital operations through data that Karen really enjoys and what makes the health care industry her most rewarding so far. Being a part of informatics research, has afforded her the opportunity to participate in developing tools to aid research analysis, co-author published articles and in 2016 was a poster presenter at the annual AMIA conference in Chicago.
Karen holds an EdD in Leadership and Learning in Organizations from Vanderbilt University, a MS in Computer Engineering from Florida International University and a BS in Computer Science from the University of the West Indies, Jamaica.
Karen enjoys travelling, thriller and fantasy novels and movies and is unashamedly a cat person.
Gen Li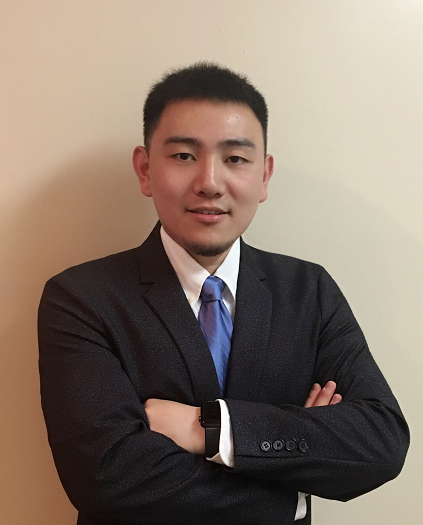 Gen Li was born and raised in Tianjin, China, and moved to the United States to pursue a postgraduate degree in 2012. Two years later, he was awarded a master's degree in Biochemistry at the University of New Mexico, and then his second M.S. in Applied Statistics from West Chester University in 2017.
Gen started his career with the Tennessee Department of Health after graduation, and then joined the Vanderbilt Anesthesiology and Perioperative Informatics Research (VAPIR) team in 2018. He is currently working as a statistician in the VAPIR team, with experience processing data and performing comprehensive statistical analyses. His background in statistics, biochemistry, and pharmaceutics inform his attentive but competitive approach. Gen is fueled by his passion for understanding the story behind the clinical data, and therefore, he stays in tune with the most advanced statistical techniques through continuous learning. He has published over 10 peer-reviewed papers in reputed international journals, which are believed to result in the direct improvement of care and operative outcomes of patients.
Zameeruddin Lodhi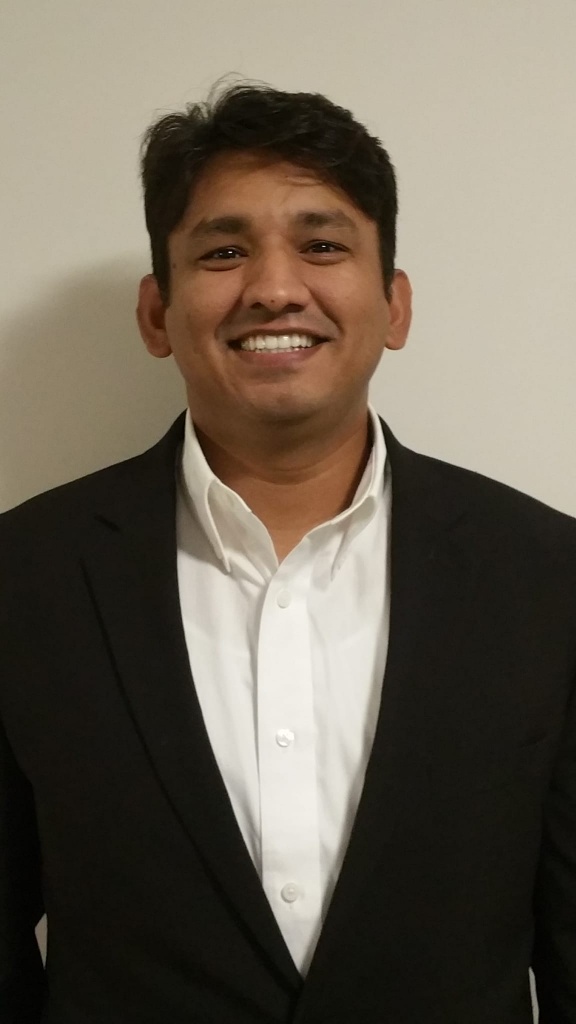 Zameeruddin Lodhi is the Senior Business Intelligence Analyst at the VAPIR team. He was born in Dubai, U.A.E. but raised in Jhelum, Pakistan. After working for almost a decade at Ingram Content group he decided to go back to college. He got his BBA in 2015 and MS in Business Intelligence & Analytics in 2016 from Middle Tennessee State University. After working for two years as a full stack .Net Developer at HCA, he decided to join the VAPIR team in 2018. To keep up with the technology, he likes to attend BI and SQL seminars in the Nashville vicinity.
Zameer likes to play cricket in the Nashville vicinity. He has won several cricket tournaments. He lives in Antioch with his wife Nabila and daughter Aqsa.