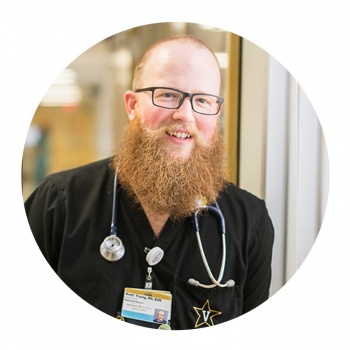 Hello and welcome to our unit!
I'm Brett Young, MSN, RN, Manager of the Vanderbilt Hospital at Home unit, also known as VHaH. Our unit's command center is located on the 7th floor of the Crystal Terrace building located off of West End Avenue in Nashville. We have staff embedded within the greater Nashville community as well as the Adult Emergency Department at Vanderbilt University Hospital (VUH).

The environment on our unit is adaptive, collaborative, and patient-centered.
We care for adult patients 21 and older who are being treated for a variety of medical diagnoses including but not limited to pneumonia, COPD, UTI, cellulitis, congestive heart failure, and acute kidney injury.  Our patients are unique because they receive care within their homes rather than the brick-and-mortar hospital.
One of the perks of working on my unit is the opportunity to participate in the growth of a new care model in American health systems.
Our nurses are successful because they have diverse nursing backgrounds, triage experience, and telehealth skills.
We orient new nurses to our unit by providing a six-week unit-specific orientation with dedicated preceptors. 
We encourage professional growth.
If your career goal is to advance "access to" and "quality of" patient care, Vanderbilt Hospital at Home can help with this by fostering professional growth and innovation.
If you have any questions about my unit, please email me at brett.t.young@vumc.orgl or visit Work at Vanderbilt University Medical Center to explore open nursing positions.

Unit/Area Index