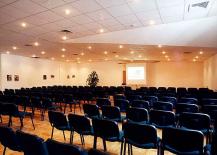 Below you will find a list of associations that routinely offer conferences on medical education, from undergraduate medical education to resident and research education. Additionally, there is a listing of other websites that may have up-to-date conference listings.
Associations Offering Conferences
2020
IAMSE Save-the-date for 2020!
Neil Osheroff.PhD, will be chairing a one-day meeting entitled
"IAMSE in Asia - Integration in Medical and Health Science Education" on February 28, 2020.
The meeting will be held at the Shangri-La Hotel in Kuala Lumpur and will be held in conjunction with the Ottawa Conference on Assessment and Evaluation of Health Professionals and Curricula, which will be held at the Kuala Lumpur Convention Centre on February 29-March 4, 2020. Please save the dates and consider attending both meetings!
2019
"Developing Medical Educators of the 21st Century" February 25-27, 2019
Golden Gateway Holiday Inn, San Francisco, CA
Registration begins October 1, 2018!
IAMSE (Roanoke VA - June 8-11, 2019)
Submission Deadline: September 15, 2018 at 11:59 p.m. EST
2018
AAMC Meetings
Learn Serve Lead Conference Nov. 2-6 (Austin TX)
ACGME Annual Educational Conference (Orlando March 1 - 4, 2018)
SGEA (Jackson, MS April 19-21, 2018)
IAMSE  (Las Vegas June 9, 2018)
AMEE (Switzerland August 25-29, 2018)
 
2017
SAVE THE DATE FOR THE 2018 ACGME ANNUAL EDUCATIONAL CONFERENCE!
Thursday, March 1-Sunday, March 4, 2018
Rosen Shingle Creek Resort
Orlando, Florida
2016 IAMSE  June 4-7, 2016 Leiden,the Netherlands
2016 AMEE - August 27-31, 2016, Barcelona, Spain
2016 AAMC  Learn Serve Lead 2016: The AAMC Annual Meeting
November 11-15, 2016, Seattle, Wash.
2016 SGEA (Southern Group on Educational Affairs) Annual Meeting April 13-16, 2016 Austin, TX
2016 National Academies of Practice Annual Forum April 8-9, 2016 Baltimore, MD
2016 Innovations in Medical Education Conference  Feb.19-20, Los Angeles, CA
AMEE 2015, Glasgow, UK,  4-9 September 2015
The Generalists in Medical Education, November 8-9,  2015
AAMC Medical Education Meeting,  November 10-12, 2015
IAMSE  San Diego, CA , June 13-16, 2015
AAMC - JOINT MEETING of the Central Group on Educational Affairs (CGEA), Central Group on Student Affairs (CGSA), Central Organization of Student Representatives (COSR) - April 9-12, 2015
Innovations in Medical Education Conference-Feb. 21-22, 2015 • Los Angeles, CA
AAMC Medical Education Meeting - November 6-7, 2014
Generalists in Medical Education  - November 8-9, 2014
Learning Communities Institute - Nashville - September 26-28, 2014
Association for Medical Education in Europe (AMEE) 2014 - Milan, Italy
International Association of Medical Science Educators (IAMSE)
Vanderbilt Represented at AAMC Integrating Quality meeting in Chicago June 2014
Association of American Medical Colleges (AAMC) Upcoming Meetings
Southern Group on Educational Affairs (SGEA)
Accreditation Council for Graduate Medical Education (ACGME)
Alliance for Continuing Education in Health Professions (ACEhp)
American Academy on Communication in Healthcare (AACH)
American Educational Research Association (AERA)
American Medical Informatics Association (AMIA)
Association for Medical Education in Europe (AMEE)
Association for Surgical Education (ASE)
Association for the Study of Medical Education (ASME)
Association of American Medical Colleges (AAMC)
Association of Directors of Medical Student Education in Psychiatry (ADMSEP)
Association of Standardized Patient Educators (ASPE)
Canadian Conference on Medical Education (CCME)
Centre for Evidence Based Medicine, Oxford University
Council on Medical Student Education in Pediatrics (COMSEP)
Directors of Clinical Skills Courses (DOCS)
Hawaii International Conference on Education
International Association of Medical Science Educators (IAMSE)
International Conference on Medical Education (ICME)
International Medical Education Conference (IMEC)
Keck School of Medicine, University of Southern California
Learning Communities Institute, Tufts University
National Academies of Practice (NAP)
Office of Continuing Medical Education, Southern Illinois University
Pediatric Eduational Excellence Across the Continuum (PEEAC)
Royal College of Physicians and Surgeons of Canada
Society for Simulation in Healthcare (SSH)
Society of General Internal Medicine (SGIM)
Society of Teachers of Family Medicine (STFM)
Southern Group on Education Affairs (SGEA)
Student National Medical Association (SNMA)
Team-Based Learning Collaberative
Additional Conference Listings
Ohio University listing of national conferences