Research Specialty
The laboratory of Dr. Massion emphasis is on lung tumorigenesis and on using genomic, proteomic, and advanced imaging approaches for the identification and validation of molecular determinants of early detection, progression, and prognosis.
Research Description
1. Role of chromosome 3q in lung cancer. Selection of candidate genes driving a genomic amplicon on Chromosome 3q. Focus on functional genomics for candidate driver genes on chromosome 3q.
2. Proteomic approach to preinvasive lung cancer. Protein profiling of preinvasive lesions in bronchial biopsy.
3. Tumor heterogeneity in SCLC. 
4. Non-invasive evaluation of indeterminate pulmonary nodules (IPNs). 
5. Lung cancer biomarker discovery and validation. Identification of discriminatory proteins between lung cancer and controls.
About Dr. Massion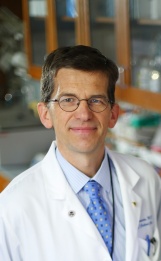 Director of Early Detection and Prevention Initiative at Vanderbilt Ingram Cancer Center
Co-Lead, Cancer Health Outcomes and Control
Ingram Professor of Cancer Research
Cornelius Vanderbilt Chair of Medicine
Professor of Medicine
---
I have worked in the field of lung cancer biology, early detection and therapeutics since 1999. As the co-Leader of the Cancer Outcome Program at the Vanderbilt Ingram Cancer Center (VICC), and Director of the Early Detection and Cancer Prevention initiative at the VICC, I thereby oversee and foster a rich environment to translate science from the program to trials in the collaborative groups like SPORE, EDRN, and ECOG.  I am the principal investigator of the Vanderbilt Clinical Validation Center, sponsored by the EDRN, to validate candidate biomarkers of lung cancer.  My research laboratory is funded through several mechanisms, including one R01 grant from the NCI, a grant from the Department of Defense (DECAMP) and 3 U01's, one of which from the Early Detection Research Network (EDRN) to run a clinical trial addressing populations at greatest risk for lung cancer. I am also the PI of a VA merit review grant where we propose to interrogate tumor heterogeneity in SCLC. These sources of funding follow the translational medicine paradigm discovering at the bench molecular determinants of lung cancer progression and strongly anchor in biology biomarker validation efforts. I am the PI of 5 active clinical studies in Clinicaltrials.gov and have mentored multiple students, fellows and junior investigators.  
Education
M.D. - Catholic University of Louvain
Resident in Internal Medicine-St-Luc Hospital, Catholic University of Louvain
Postdoctoral Fellow in Pulmonary Research, Cardiovascular Research Institute-University of California, San Francisco, California
Clinical Fellow in Pulmonary Medicine- Catholic University of Louvain
Resident in Internal Medicine-UCSF Mount Zion Medical Center, San Francisco, California
Postdoctoral Fellow in Pulmonary and Critical Care Medicine-University of California, San Francisco, California