September 2019
Dr. Harrison was thrilled to receive the Vanderbilt Brain Institute "Outstanding Mentor of the year" award and the Annual Neuroscience Retreat.
Undergraduate Kelly Klimo was accepted to her first choice graduate program in dentistry - OHIO
July 2019
Jordyn Wilcox is officially now a PhD candidate in the Harrison lab
June 2019
David Consoli passed his Qualifying exams and is a PhD candidate in the lab
The lab presented a poster and a talk at AAIC19 in LA - and squeezed in a trip to Universal Studios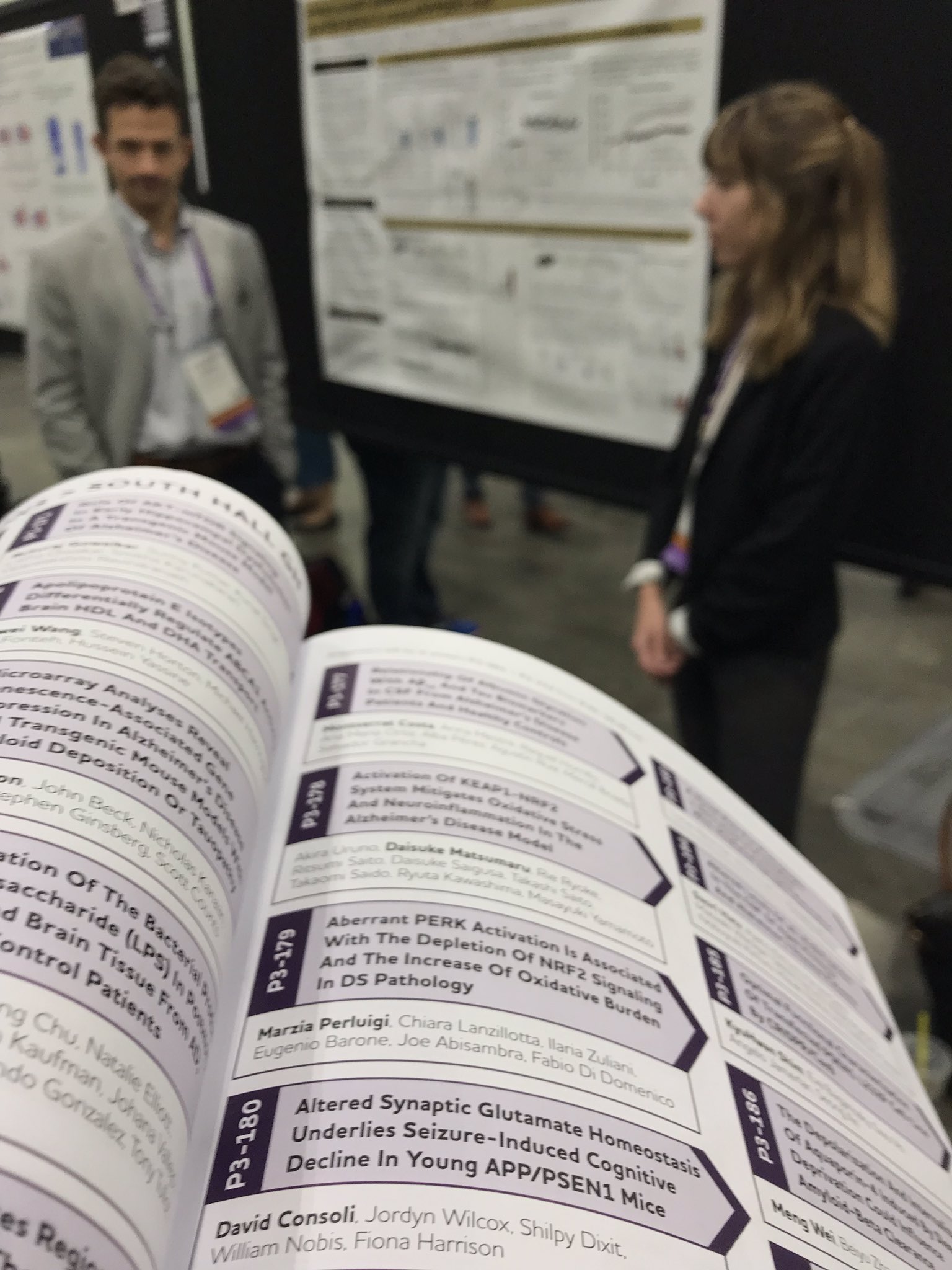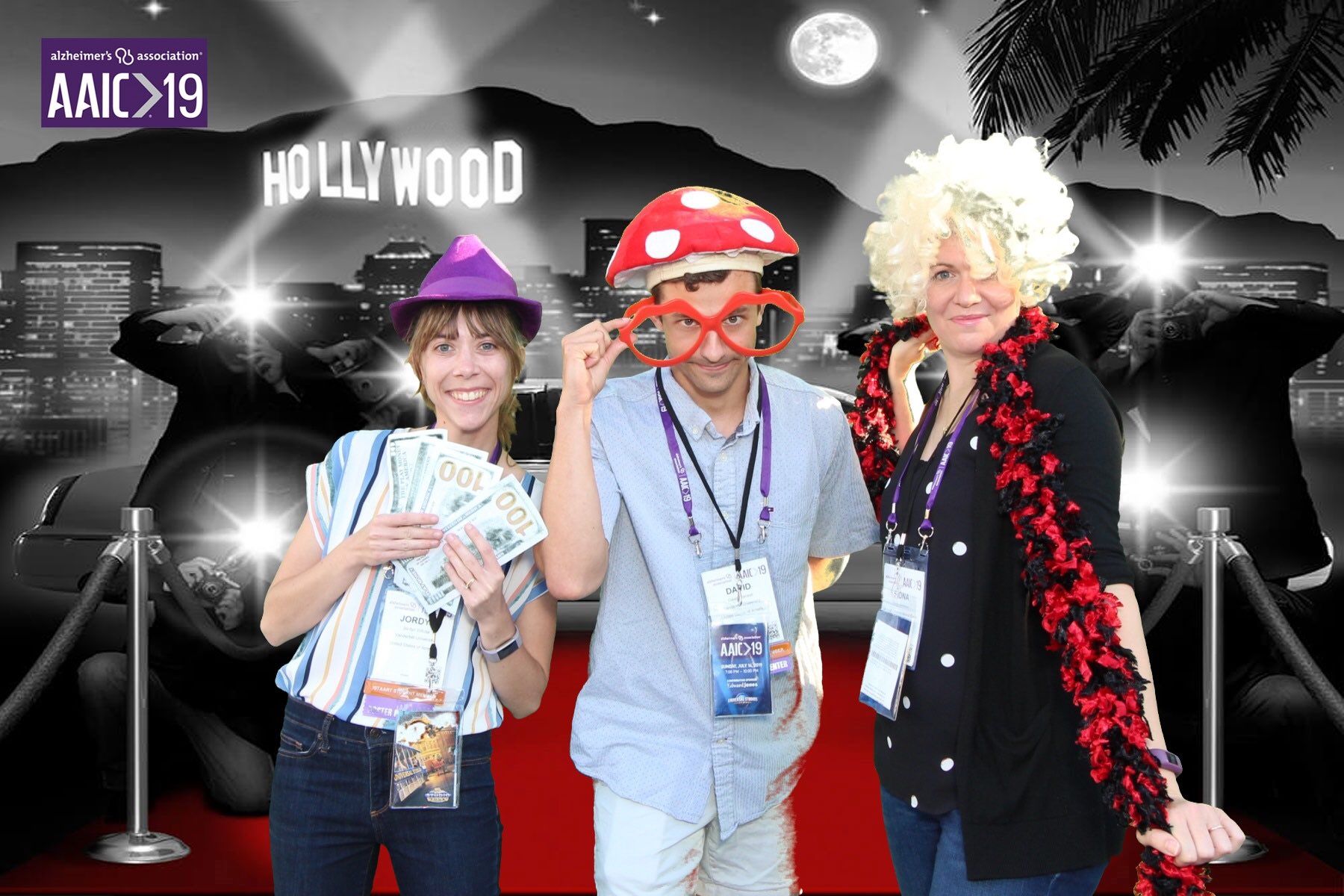 May 2019
Dr. Shilpy Dixit has left the lab to take on a prestigious internship in Sleep Disorders at NIH
December 2018
Winter lab lunch - with party hats from Christmas crackers
October 2018
Science careers should be accessible to all, but there are some unique issues that arise when lab animals like mice could be exposed to service dogs. Read about the story and our thoughts on it here
August 2018
Article Accepted - So many people contributed to this one. "Altered glutamate clearance in ascorbate deficient mice increases seizure susceptibility and contributes to cognitive impairment in APP/PSEN1 mice" in Neurobiology of Aging. Available on-line.
July 2018
We love it when our students get their first 1st-author manuscripts! "Oxidative Stress Levels in
the Brain Are Determined by Post-Mortem Interval and Ante-Mortem Vitamin C State but Not Alzheimer's Disease Status" from Jared Eckman et al.
March 2018
High fat diet is as damaging to mouse DNA as Alzheimer's Disease mutations are. Our new publication in Scientific Reports.
Fiona was featured (again) in the Korean Times after speaking at the International Vitamin C Symposium.
August 2017
Shilpy's paper "Mitochondrial Dysfunction in the APP/PSEN1 mouse model of Alzheimer's disease and a novel protective role for ascorbate" was accepted to Free Radical Biology and Medicine.
July 2017
The lab welcomed 16 High School students from the Vanderbilt Talented Youth Program into the lab to learn some basics about Alzheimer's disease research, and to practise their genotyping, brain dissection, tissue slicing and behavioral coding skills. We look forward to seeing some of these students back as undergraduates and graduate students in due course!
May 2017
Deborah Mi was accepted to medical school UT in Memphis! Congratulations, but we're sorry to see you go.
Representatives from the lab won 2nd place in the photo scavenger hunt at the VBI picnic
April 2017
Marching for Science! (In particular for neuroscience and paleontology research)
February 2017 Article accepted: Serotonergic and oxidative stress changes and decreased ultrasonic vocalizations in a compound heterozygous mouse model of Smith Lemli Opitz Syndrome
January 2017 Our article: Reversal of high fat diet-induced obesity improves glucose tolerance, inflammatory response, β-amyloid accumulation and cognitive decline in the APP/PSEN1 mouse model of Alzheimer's disease. Neurobiology of Disease. 100:87-98 is featured on the VUMC news letter, the DRTC website, the VBI website, and ... local Fox News Channel 17!
August 2015 June Pennock joined the lab - she's great at grant writing already!
August 2014 Shilpy passed her qualifying exams - of course!
June 2014 Anjelica will be representing Vanderbilt University (and the lab) at the SEC Conference on Obesity Prevention in Atlanta this September.
May 2014 Data Blitz session for the Middle Tennessee Chapter for the Society for Neuroscience. In the Post Doc category Jen Walker placed FIRST and John Kennard placed SECOND. In the Graduate Student competition Shilpy Dixit placed SECOND. A huge success for the lab!
March 2014 Fiona finds fame in Seoul, South Korea. Page 5 of the Korea Times, after her talk at the 4th International Symposium of Vitamin C. Mentioned in the general article, and a whole half page spread soley about work from the Harrison lab
February 2014 Congratulations to John Kennard on his publication in Behavioural Brain Research "Intravenous ascorbate improves spatial memory in middle-aged APP/PSEN1 and wild type mice"
January 2014 A great visit to the lab by Lillian, budding neuroscientist. She looked at fluorescing amyloid plaques under the microscope, and her MDA experiment turned pink.
August 2013 Jennifer Walker joined the lab as a post doctoral fellow
This year's undergraduate research assistants are Jack Petros (Sr.), Eric Kessler (Jr.), Lisa Moore (Jr.) and Anjelica Saulsberry (Jr.)
May 2013 Shilpy Dixit joined the lab as full time graduate student. Clare Gamlin graduated and left for Graduate school (Neuroscience) at Washington University. Oakleigh Folkes graduated and left for a research job at Johns Hopkins, but will be back for Graduate school at Vanderbilt (Neuroscience) in 2014. Grace Kim graduated and is heading to the Special Masters Program at Georgetown University. All three girls successfully defended their Honors theses.
Fiona presented "Vitamin C and Cognition in Aging" at the Diet and Optimum Health Conference at the Linus Pauling Institute in Corvallis, Oregon.
November 2012 Daisy Pennock was born
October 2012 Clare Gamlin, Grace Kim and Oakleigh Folkes all presented posters at the Society for Neuroscience Conference in New Orleans
September 2012 John Kennard joined the lab as a post doctoral fellow, and then got married.
August 2012 Dr. Alexandra Bernardo left the lab to return to Puerto Rico
May 2012 Fiona attended the Cold Springs Harbor Course on Cognitive Aging
March 2012 Fiona presented data relating to neurochemical and behavioral changes in scurvy at the "Natural History of Scurvy" conference at the National Maritime Museum, in Greenwich, London.
February 2012 Oakleigh Folkes won first place in her group at the Kennedy Center Science Day Poster Session
An RO1 Research Grant was awarded to Dr Harrison to study the role of vitamin C and its transporters in the brain in Alzheimer's disease. The grant will run from March 2011 to February 2015.