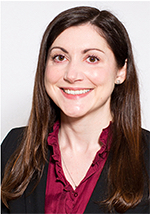 Irina De la Huerta, M.D., PhD.
Department of Ophthalmology and Visual Sciences
Irina De la Huerta obtained her undergraduate degree magna cum laude from Harvard University. In addition to her medical degree, she received her Ph.D. in Neuroscience from Harvard. She completed her ophthalmology residency at the University of California, San Francisco, followed by a fellowship in retinal and vitreous surgery at the William Beaumont Hospital. In her clinical practice, she cares for adults and children with vitreoretinal conditions. She is an NIH-funded physician scientist whose laboratory is focused on the roles of retinal neurons in retinal vascular diseases such as diabetic retinopathy, retinopathy of prematurity and age-related macular degeneration.