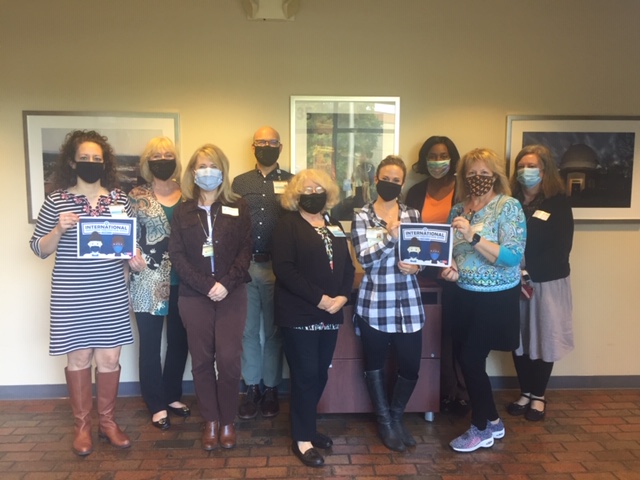 [Pictured (Left to Right): Mary DeVault, Vicki Maddox, Tanya Boswell, Donald Coode, Kathie Wilkerson, Tanya Stellges, LaKita Buchanan, Lorri Downs, Jackie Smith. Not Pictured: Jan Szychowski, Taylor Lyall]
This week is International Infection Prevention Week. Vanderbilt University Medical Center's Infection Prevention Team is being recognized for their outstanding contributions during this year's battle against the COVID-19 pandemic.
"Since the beginning of the pandemic, The IP Team has worked tirelessly to support frontline teams and has often spent all night taking calls. There is not a more committed group of individuals. On behalf of the Medical Center I want to thank the team for their hard work. You could not ask for a more committed group of individuals," said Jenny Slayton, MSN, RN, Senior Vice President for Quality, Safety and Risk Prevention. 
Highlights of VUMC's Infection Prevention (IP) team:
Collective years of nursing experience: 256 years
Collective years of Infection Prevention experience: 146 years
Greater than 70% are certified Infection Preventionists through the Association of Practitioners of Infection Control and Epidemiology (APIC). The APIC is the leading professional association for infection preventionists with more than 15,000 members.
In response to the COVID-19 pandemic, the IP Team quickly mobilized to support VUMC's team members, addressing questions and concerns when things were new to everyone. The IP Team came together and supported not only frontline health care teams but each other.
There is great partnership and support from the team's physician leaders, Drs. Bryan Harris, Tom Talbot and Greg Wilson.
In 2017, the Infection Prevention Team received APIC Program of Distinction. The Program of Distinction confers a designation of excellence to acute care facilities and health systems for infection prevention programs that meet a set of high-level standards.
Recipients are measured on eight standards of excellence:

Surveillance
Hand Hygiene
Health care-Associated Infections/Outbreak management
Isolation
Safe Patient Equipment
Emergency Management
Employee Health
Antibiotic Stewardship

Facilities receiving Program of Distinction designation undergo a rigorous process including a comprehensive document review and an onsite assessment by a team of APIC surveyors.