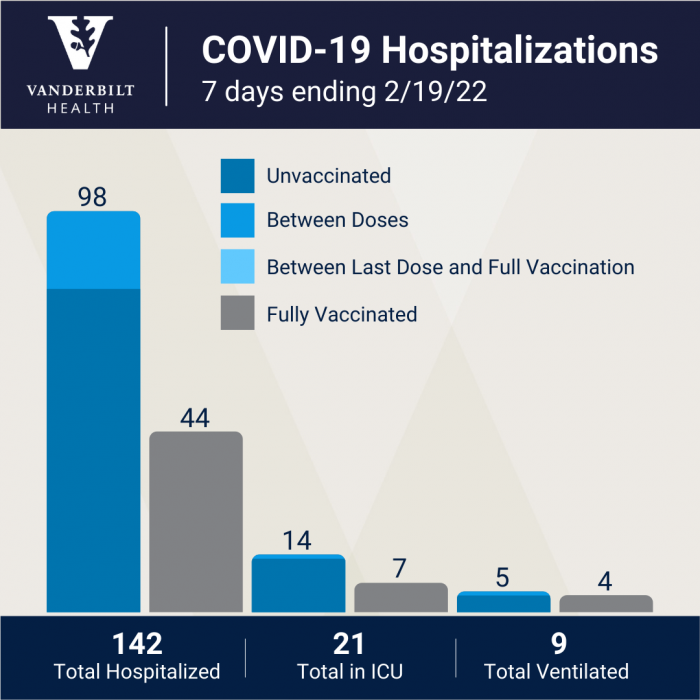 We're hopeful as the number of patients hospitalized with COVID continues to decline in our hospitals and across the state. Safety precautions, including being up-to-date on your COVID-19 vaccines by getting a booster as soon as you're eligible, remain important as the CDC continues to categorize the transmission of COVID-19 in our region as "high".
As continues to be the case, the weekly data showing hospitalizations for patients with COVID-19 in our hospitals have some limitations but do reflect the ongoing burden on hospitals and clinics.
The omicron variant can cause mild symptoms or even no symptoms, especially among vaccinated people. Some of these hospitalized patients may have incidental COVID infection. These data also do not reflect booster status among those who are at least "fully vaccinated."
Vaccination and boosters remain the best way to reduce risk of serious illness and hospitalization. Data are emerging that show a boosted individual is more protected against infection with the omicron variant than those who have not been boosted. Even if not boosted, a vaccinated person is at lower risk of infection and, if infected, severe complications with omicron.
These data reflect patients hospitalized over the 7-day period ending Feb. 19 on our Nashville campus, including our Children's Hospital; Vanderbilt Wilson County Hospital, Vanderbilt Bedford Hospital and Vanderbilt Tullahoma-Harton Hospital. The lighter blue bars reflect patients who are "partially vaccinated," meaning they're between 2 doses or have had 2 doses less than 14 days ago. The "fully vaccinated" group includes those with and without a booster. Those without boosters may have higher risk of infection