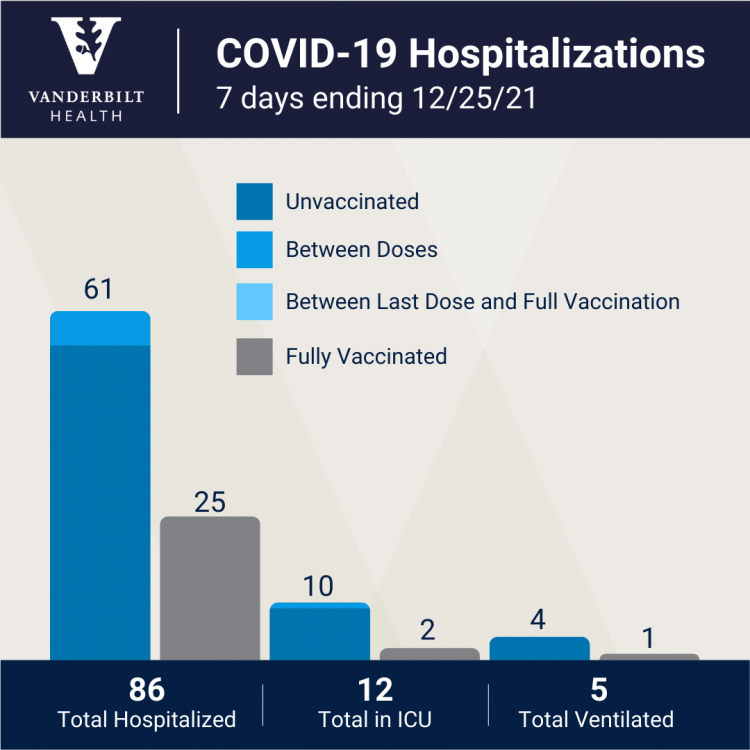 Hospitalizations for COVID-19 continue to increase as the delta variant keeps circulating and the more contagious omicron variant causes a spike in cases.
We continue to urge vaccinations and boosters as the most important step in helping control the pandemic. Wearing masks in public indoor settings, frequent and thorough hand-washing and getting tested before you gather in large groups are also important, especially as we head into New Year's celebrations.
These data reflect patients hospitalized over the 7-day period ending Dec. 25 on our Nashville campus, including our Children's Hospital; Vanderbilt Wilson County Hospital, Vanderbilt Bedford Hospital and Vanderbilt Tullahoma-Harton Hospital. It includes patients hospitalized with active COVID infection. It doesn't include patients who remain hospitalized because of lasting complications of their illness. The lighter blue bars reflect patients who are "partially vaccinated," meaning they are between 2 doses or have had 2 doses less than 14 days ago.