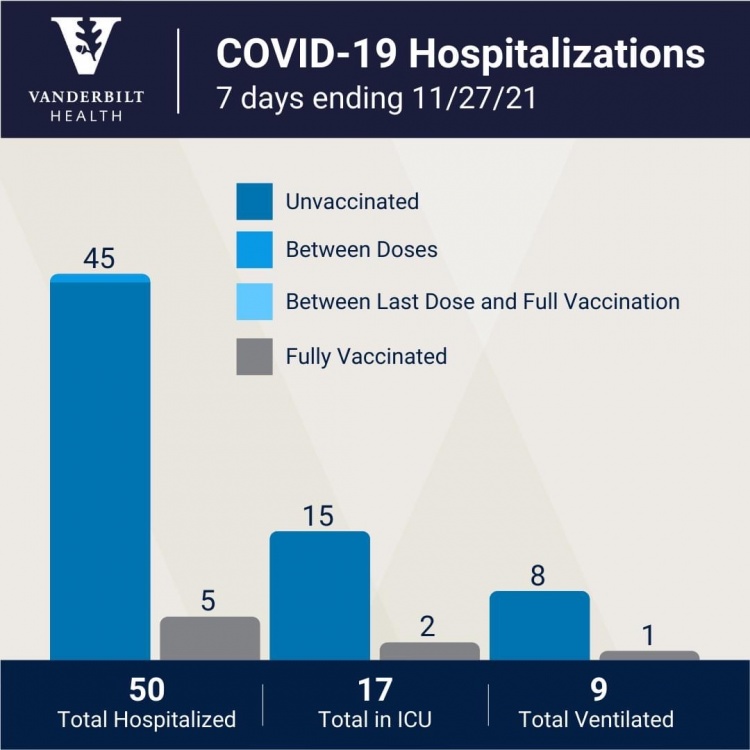 We are seeing a steady rise in COVID-19 hospitalizations, which is especially concerning as we head into flu season. Hospitalizations for COVID-19 in our health system are the highest they have been since the week ending 10/30. Infections are rising statewide and transmission rates are high in our region.
Vaccinations to protect you and your family against COVID-19 and the flu are more important than ever. If you've not yet gotten those immunizations or the COVID-19 booster, we encourage you to talk to your doctor or other healthcare provider.
These data reflect patients hospitalized over the 7-day period ending Nov. 27 on our Nashville campus, including our Children's Hospital; Vanderbilt Wilson County Hospital, Vanderbilt Bedford Hospital and Vanderbilt Tullahoma-Harton Hospital. It includes patients with active COVID infection. It doesn't include patients who remain hospitalized because of lasting complications of their illness. The lighter blue bars reflect patients who are "partially vaccinated," meaning they are between 2 doses or have had 2 doses less than 14 days ago.