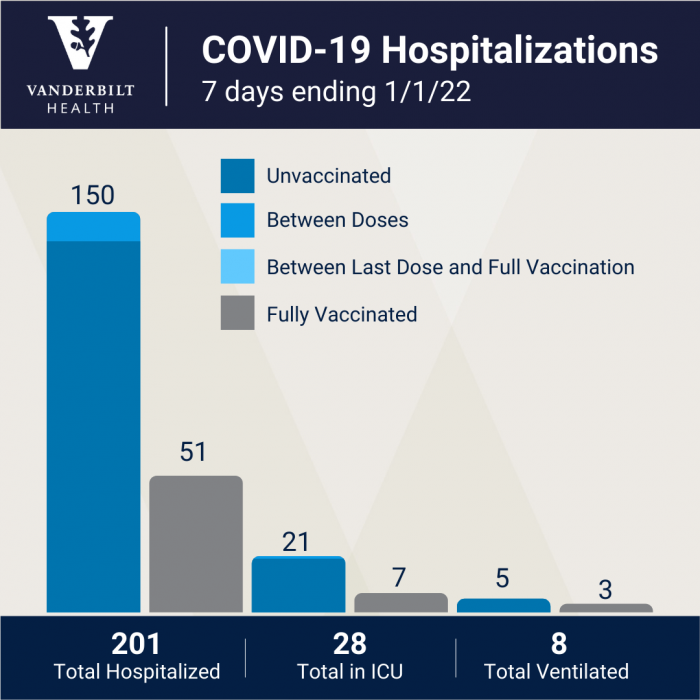 Here are the weekly data showing hospitalizations for patients with COVID-19 in our hospitals. The omicron variant is impacting how we consider case counts and hospitalizations. These data have some limitations, our chief hospital epidemiologist tells us.
When the delta variant was circulating and commonly causing severe disease, it was clearer that many patients with COVID were hospitalized because of COVID. Omicron can commonly cause mild symptoms or even no symptoms, especially among vaccinated people. Some of these hospitalized patients may have incidental COVID infection.
These numbers do clearly reflect an increased burden on hospitals and clinics. In addition to increased numbers of people needing testing and care, our staffs are also stretched as doctors, nurses and others get infected and need to isolate. We appreciate your understanding and patience with wait times and rescheduled procedures.
Positivity rates are up. Reported cases are up. The rate of transmission is high. Please take precautions to help limit the spread: avoid crowds, wear masks in public indoor places and wash your hands well and often.
Vaccination and boosters remain the best way to reduce risk of serious illness and hospitalization. Data are emerging that show a boosted individual is more protected against infection with the omicron variant than those who have not been boosted. Even if not boosted, a vaccinated person is at lower risk of infection and, if infected, severe complications with omicron. And don't forget the flu vaccine – we're seeing a lot of flu and other winter illnesses along with COVID.
These data reflect patients hospitalized over the 7-day period ending Jan. 1 on our Nashville campus, including our Children's Hospital; Vanderbilt Wilson County Hospital, Vanderbilt Bedford Hospital and Vanderbilt Tullahoma-Harton Hospital. The lighter blue bars reflect patients who are "partially vaccinated," meaning they're between 2 doses or have had 2 doses less than 14 days ago. The "fully vaccinated" group includes those with and without a booster. Those without boosters may have higher risk of infection.