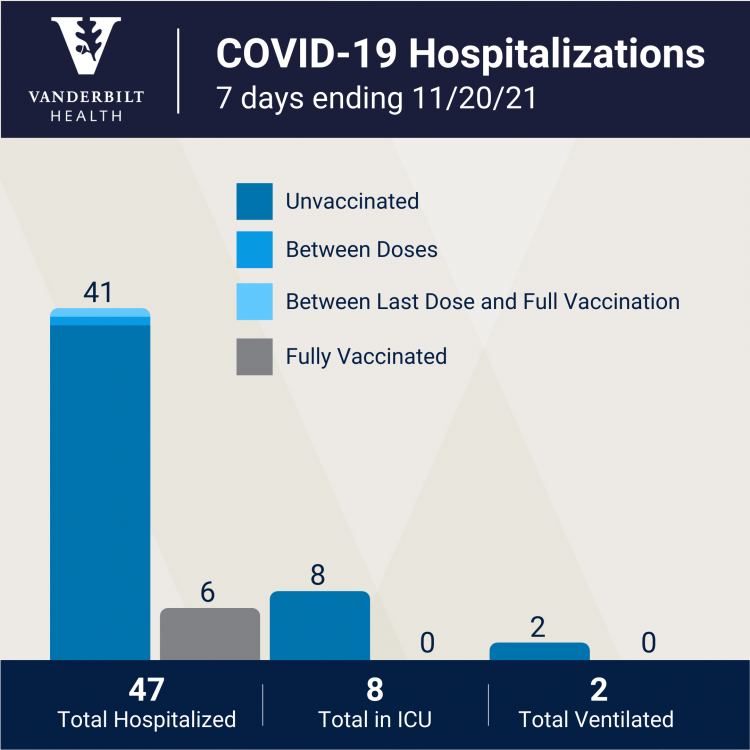 Hospitalizations for COVID-19 in our health system are up slightly this week, as the decline in overall cases across the state, and in many parts of the country, levels off.
As we all prepare for family gatherings, here are some reminders from the CDC on safer ways to celebrate the holidays: http://spr.ly/6184Jiw0C . Also, vaccinations to protect you and your family against COVID-19 and the flu are more important than ever. If you've not yet gotten those immunizations or the COVID-19 booster, we encourage you to talk to your doctor or other healthcare provider.
These data reflect patients hospitalized over the 7-day period ending Nov. 20 on our Nashville campus, including our Children's Hospital; Vanderbilt Wilson County Hospital, Vanderbilt Bedford Hospital and Vanderbilt Tullahoma-Harton Hospital. It includes patients with active COVID infection. It doesn't include patients who remain hospitalized because of lasting complications of their illness. The lighter blue bars reflect patients who are "partially vaccinated," meaning they are between 2 doses or have had 2 doses less than 14 days ago.