Improving spasticity screening, diagnosis and treatment in the long-term care setting
Spasticity is a form of muscle rigidity, which is often experienced by people with nervous system injuries. Spasticity can lead to many negative symptoms, such as increased incidence of urinary tract infection, pain and discomfort, and reduced quality of life. Additionally spasticity may impair activities of daily living, making it difficult to perform care activities for patients who require support. Our current line of research aims to validate the use of newly developed tools to assist with the identification of spasticity and to improve diagnostic criteria through identification of new markers of disease.
Spasticity is Common in the Long-Term Care Setting
| | | |
| --- | --- | --- |
| Setting | Spasticity Prevalence | Reference |
| Nursing home | 20% (45/209) | Gill and Hacker et al., JAMDA, 2020 |
| Veterans home | 33% (14/43) | Turchan et al., IJNN, 2016 |
| Veterans home | 35% (17/49) | Hacker et al. Clin. Int. Agiing, 2020 |
Spasticity is Associated with More Dependency in Activities of Daily Living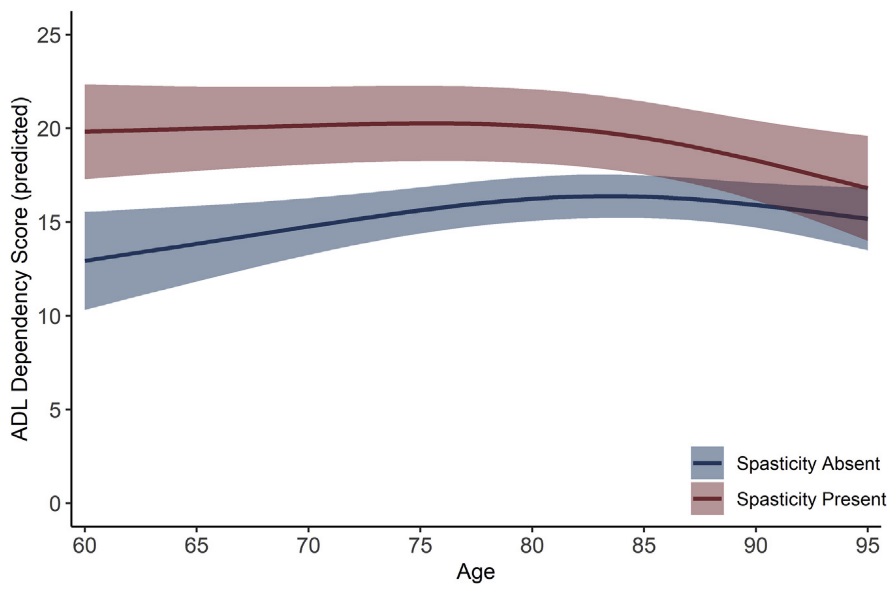 ​
Partial effects plot of age and predicted activities of daily living score in 209 nursing home residents.
Gill and Hacker et. al., JAMDA, 2020 DOI: https://doi.org/10.1016/j.jamda.2020.01.005
A Simple Bedside Tool Identifies Long-Term Care Residents in Need of Spasticity Referral with High Specificity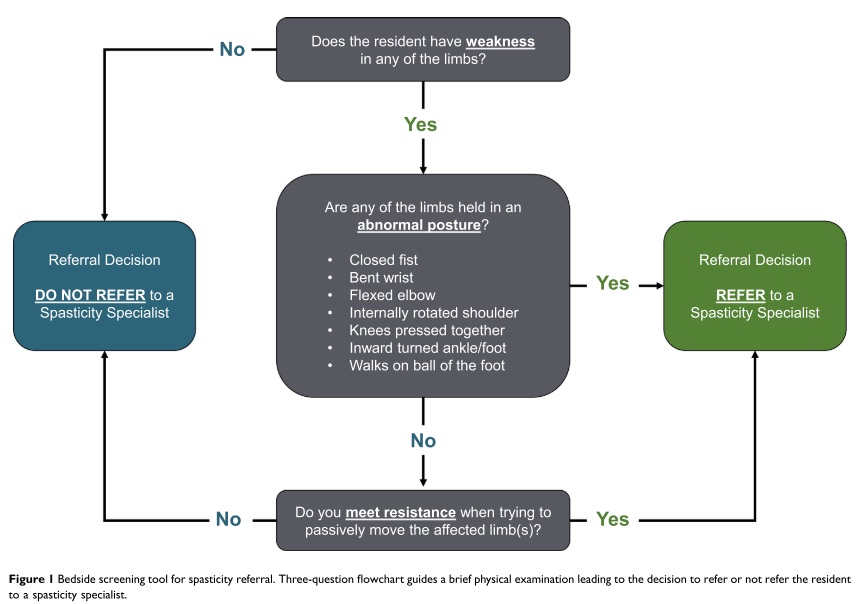 Hacker et. al., Clin. Int. Aging, 2020 https://doi.org/10.2147/CIA.S248602
2021
2020
2016
Turchan M, Charles D. Hudson S, Gill E, Currie D, Molinari L, Hacker L, Phibbs T, Tolleson C, Millan H, Heusinkveld E, Grisham J.

The Prevalence of Spasticity in Veterans Living in a Long-Term Care Facility

Int J Neurol Neurother. 3(3).

Download article from the journal website