​
Bedside Matters is a relatively new venture for VUMC. This is a forum that is intended to be for you, the front line workers, to help you deal with some of the difficult personal and emotional issues that arise in caring for patients. We hope that it will lead to strengthened relationships between patients and care givers and that it will help to preserve the human connection in healthcare.
We meet in Light Hall, from 12-1. The meetings are scheduled monthly on the third Wednesday. Since we are meeting at this hour, feel free to bring a brown bag lunch. CME credits are available by signing in with the 6 digit number assigned for that session. Continuing Nursing Education (CNE) are available as well.
Bedside Matters is an outgrowth of the Schwartz Rounds, formerly held monthly in the Oncology Center. Drs. Malcolm Arnold and Barbara Murphy and social worker Cindy Tinker have for many years supported that effort, and are to be commended for it. They have graciously agreed that it could be renamed and repurposed so that all of VUMC might be able to participate in it. We have programs that include discussion of patients and situations arising from many areas of VUMC, including VUH, the clinics, and Childrens Hospital and the Psychiatric Hospital. If any of you have an interest in participating in the planning of future meetings please contact me, and we will be glad to include you.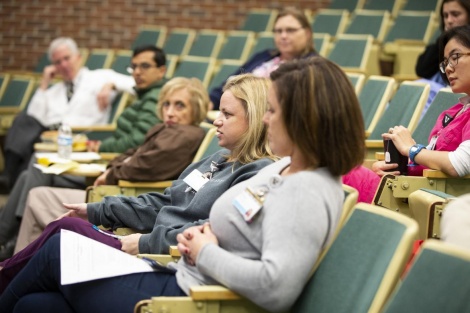 What are we about here? We intend for these rounds to help focus our attention on the delivery of compassionate healthcare. Financial pressures and administrative demands mean that you have less time with patients, and the focus on timely treatment and shortened length of stay results in less time to discern the impact that illness can have on the patient and family. On top of that, many caregivers today are frustrated and anxious and under great pressure, with no structured outlet for expressing their feelings, or with little preparation for the difficult communication issues that are inevitably a part of patient care. These rounds offer a regularly scheduled time to discuss openly and honestly the social and emotional issues that arise in caring for patients and families. In contrast to the typical rounds the focus here is on the human dimensions of medicine. You, as care-givers, have an opportunity to share your experiences, thoughts, and feelings on thought-provoking topics drawn from actual patient cases. As a result of participating in Bedside Matters we believe that caregivers will be better equipped to form meaningful, personal connections with patients and colleagues, and they will have greater insights into their own responses and feelings.
Usually a panel of 4 or 5 people each present an aspect of the case from their point of view. After the presentations by the panelists we will open it up to questions and comments from the audience. Please be respectful of the comments expressed by others. Be open-minded and fully present for the discussion. Be honest and express whatever is on your mind. Listen to where others are coming from and what they are saying. Be willing to hear an opinion that is different from your own. And finally, what is said in the room, stays in the room. Maintain a focus on improving your own performance and that of the organization and the work of your team.
How to View the Event:
1) Watch the Live Event via Zoom

2) Watch the On-Demand Version of the event through CloudCME under the online tab.
You can create your profile at https://vumc.cloud-cme.com/default.aspx