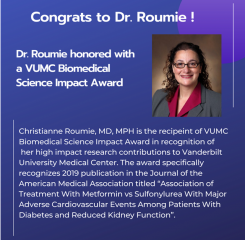 From VUMC Office of Research: "We are pleased to honor you with a VUMC Biomedical Science Impact Award in recognition of your high impact research contributions to Vanderbilt University Medical Center. The award specifically recognizes your 2019 publication in the Journal of the American Medical Association titled "Association of Treatment With Metformin vs Sulfonylurea With Major Adverse Cardiovascular Events Among Patients With Diabetes and Reduced Kidney Function". In addition, we will present you with a crystal award in honor of this achievement."   
https://news.vumc.org/2019/10/03/diabetes-drug-study-explores-cardiovascular-risks-for-patients-with-kidney-disease/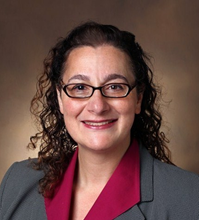 Over the years there has been uncertainty over which drugs are best for patients with Type 2 diabetes and one of its common complications, kidney disease. An observational study using medical record information from nearly 50,000 U.S. military veterans sheds new light on this issue. Among the 30 million U.S. adults with Type 2 diabetes, 20% have impaired kidney function. In patients like this, metformin, the recommended first-line drug therapy for Type 2 diabetes, is associated in the new study with 20 percent decreased risk of major adverse cardiovascular events when compared to a class of common diabetes drugs called sulfonylureas.