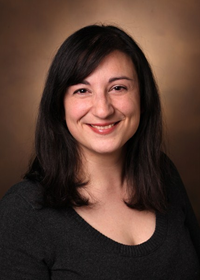 Lea K. Davis, Ph.D.
LGBTQ Health Research Faculty
pronouns: she/her/hers
Lea K. Davis, PhD, is an Assistant Professor in the Division of Genetic Medicine/Department of Medicine at Vanderbilt University Medical Center. During the past fifteen years, Dr. Davis has researched complex behavioral phenotypes and earned degrees in both psychology (BS) and human genetics (PhD). As a postdoctoral fellow, she trained with Dr. Nancy Cox at the University of Chicago where she mastered statistical and computational approaches to large complex data sets. As a postdoctoral fellow, then as a research assistant professor funded by a KL2 career development award at the University of Chicago, she organized and lead several multi-center analytic efforts on behalf of three neuropsychiatric consortia in TS, OCD, and ASD. Her findings are informing subsequent polygenic analyses, pathway analyses, and rare variant analyses and have significantly impacted the field.
When she is not working, Dr. Davis enjoys cooking, knitting, hiking, yoga, and, most importantly, advocating on issues of social justice including LGBTQ health disparities.