Julia Grey
Julia Grey (she/her/hers) is a current junior at Mount Holyoke College majoring in biology with a minor in gender studies pre-med. She is from Atlanta, Georgia. She wants to become a plastic surgeon that performs gender affirmation surgeries. She is passionate about empowering all trans people to self-actualize and embrace their holistic selves. Her interests outside of school, research, and helping others include playing Super Smash Bros. Melee, playing basketball, watching anime, and enjoying the outdoors. With everything Julia does, she tries to incorporate helping others. Recently, Julia helped raise $21,000 for Middle East Children's Alliance (MECA) by hosting a charity event through Super Smash Bros. Melee! Julia's eventual goal in life is to simply be happy, feel fulfilled through some form of mutual aid, have a wife who loves her, and rescue many cats. Julia currently has a one-eyed cat whose name is Polyphemus.

Julia found her way to being an LGBTQ Health Intern through her past work as an LGBTQIA+ advocate and interest in LGBTQ Medicine. She will be helping Drs. Jasmine Walker and Mathew Facciani with their needs assessment project for LGBTQ health education, as well as helping the LGBTQ Health office further its program.
---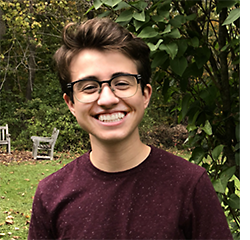 Melvin Lewis
Mid-way through June, we had the honor of welcoming our Trans Buddy intern, Melvin Lewis! Here is some information about Melvin:
Melvin Lewis (he/him) is a rising senior at Williams College in western Massachusetts, where he is studying Spanish and Arabic and majoring in religious studies. He is from Rockville, MD and San Antonio, TX, although he currently calls Dayton, OH home. Some of his interests and hobbies include playing musical instruments, combating food waste, ending mass incarceration, and working as a volunteer income tax preparer (although he prefers to avoid Schedule SE). Through leadership positions at his college's Queer Student Union and Jewish Association, he organized a meal-swipe fundraiser that earned $2000 for the Transgender Law Center and a friendship bracelet fundraiser that generated $700 for a variety of racial justice-aligned organizations. In his last year of undergrad, Melvin aims to continue sneakily redistributing wealth from his school to the larger community of the Berkshires.  

 This summer, he was placed by Hampshire College's Reproductive Rights Activist Service Corps (RRASC) at the Trans Buddy program here at VUMC. He is excited to be working directly with trans patients and their advocates. As his first in-person internship, he is thrilled to be in Nashville and have his own desk in the office.
We are so excited to host Melvin for the summer!
---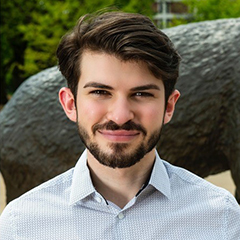 Jacob Zimmerman
Jacob Zimmerman (any pronouns) recently graduated from the University of Kentucky in Lexington, KY, with a Bachelor of Science in Human Health Sciences, also majoring in Gender and Women's Studies. He plans to attend The Ohio State University College of Medicine starting Fall Term of 2021. Jacob grew up in Akron, Ohio, and is a big fan of the Theatre district. Jacob hopes to pursue queer-affirming healthcare, possibly also working in reproductive justice healthcare, and wants to complete an MD/MPH dual degree program. He is involved in the Hillel organization for Jewish students, American Medical Student Association, the Interprofessional Healthcare Residential College at University of Kentucky, and research in Mass Casualty Incident (MCI) simulation training at Summa Health Systems Akron Campus. He loves to tend to his succulents and other tropical indoor plants, as well as collect enamel pins for his denim jacket and work on paintings with queer motifs. Upon graduation, he received the Human Health Sciences Academic Award, and the Gender and Women's Studies department award known as the Joan Callahan Award for Scholastic Achievement. Both awards recognize the recipient for outstanding achievement in the respective undergraduate major, and signify the recipient has the respect and endorsement of the faculty under which they have studied.

Jacob first took up LGBTQ* advocacy after a chance meeting with Jeff Bixby, a leader in the Gay, Lesbian and Straight Education Network's (GLSEN) Northeast Ohio Chapter. Jeff introduced Jacob to the beautifully rich history of social justice in the queer community, reminiscing on ACT UP. Jacob focuses his pursuits on the historical burden on the LGBTQ* community to disseminate public health information on its own, and the highlighted need for advocacy for LGBTQ* people in the healthcare sector. 
This summer, Jacob will work closely with Renate Meier, WHNP-BC, MSN, to generate original research on the low screening rates and high cervical cancer rates of queer, trans and gender non-conforming patients through analysis of choice of PAP smear collection method.