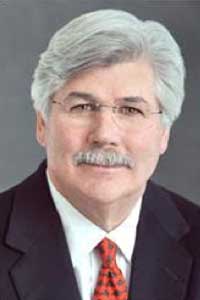 John F. Stein, Vice Chair
Mr. Stein retired in February of 2017 after 42 years with Bank of America. Most recently, he founded and led for 10 years the national team that supports Bank of America Merrill Lynch's For-Profit Healthcare Industry. This team serves the broad spectrum of midcap healthcare companies throughout the country. Clients range from the healthcare industry's sub-sectors — Biotech, Medtech, Services, Healthcare IT, etc. This specialized industry team provides capital, treasury management, investments, advisory services, and access to the full array of products and services available from Bank of America Merrill Lynch. Additionally, John served as the State President for Tennessee for 15 years, leading the breadth of Bank of America Merrill Lynch's activities in the state.
John started banking in 1975. His career has covered many facets of the industry from supporting Small Business to National Accounts/Corporate Division. During the 1980s, he managed the In-ternational Division, including opening and managing the New York City office. He has traveled to and completed business in more than 45 countries.
John is involved in a number of community and professional organizations. He is currently a council member of the W.O. Smith Music School and a board member of the Nashville Songwrit-ers Hall of Fame and Monroe Carell Jr. Children's Hospital at Vanderbilt. Additionally, he is a member of the executive council of American Securities LLC, a private equity firm based in New York; vice-chairman of the board of Vanderbilt University Medical Center; and co-chairman of the Vanderbilt Black and Gold Club.
A sampling of past board positions includes The Land Trust of Tennessee, Leadership Music (chairman), Nashville Sports Council, Nashville Symphony, Vanderbilt Athletic Committee, Nashville Chamber of Commerce (vice-chairman), Leadership Nashville and NashvilleHealth.org.
John holds B.S. and MBA degrees from Vanderbilt University, where he was team captain and multiple school-record holder in men's swimming. He is married to Beth Stein, and they have a son, Tyler.