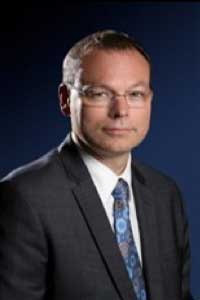 Jeffrey R. Balser, M.D., Ph.D.
President and CEO, Vanderbilt University Medical Center
B.S. Engineering, Tulane University, 1984; M.D./Ph.D., Vanderbilt University, 1990.
After receiving both an M.D. and a Ph.D. in pharmacology from Vanderbilt in 1990, Dr. Balser undertook residency training in anesthesiology and fellowship training in critical care medicine at The Johns Hopkins Hospital in Baltimore, MD. He joined the faculty at Johns Hopkins in 1995, where he practiced cardiac anesthesiology, ICU medicine, and led an NIH-funded research program aimed at the genetics of cardiac rhythm disorders, such as sudden cardiac death. Dr. Balser returned to Vanderbilt in 1998 as Associate Dean for Physician Scientist Development, and soon appointed Chair of the Department of Anesthesiology, directing one of the medical center's largest clinical service programs. He became VUMC's chief research officer in 2004, leading a period of scientific expansion that moved VUMC into the nation's top 10 in NIH funding, launching big-science programs integrating health informatics and genomics that stimulated VUMC's national leadership in personalized medicine. In 2008 he was named the eleventh dean of Vanderbilt's School of Medicine since its founding in 1875, and in 2009 he was named Vice Chancellor for Health Affairs with executive responsibility for all health-related programs at Vanderbilt including the hospitals, clinics, research programs, and its highly-ranked medical and nursing schools. He has led VUMC through a period of marked service-volume growth with Children's Hospital and Adult Critical Care Tower expansions, and the development of a multi-state network, while completing a two-year 8% ($250M) cost reduction to improve VUMC's competitive position in a rapidly evolving and price-sensitive healthcare marketplace. Beginning in 2014, in coordination with Vanderbilt University and its Board of Trust, he led VUMC through an historic restructuring process that concluded April 30, 2016, placing its clinicians, hospitals, clinics, research and graduate medical education programs into a financially and legally separate, $3.2B not-for-profit corporation. As the first President and CEO of VUMC he serves, and participates on, an independent 11-member board of directors, and continues to serve as dean of the Vanderbilt University School of Medicine. Dr. Balser also serves on the Board of Tulane University.