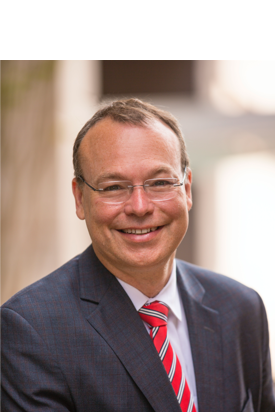 Jeffrey R. Balser, M.D., Ph.D.
Vanderbilt University Medical Center
Vanderbilt University School of Medicine
B.S. Engineering, Tulane University, 1984; M.D./Ph.D. (pharmacology), Vanderbilt University, 1990.
Dr. Balser undertook internship on the Osler Medical Service, residency training in anesthesiology, and fellowship training in cardiac anesthesiology and in critical care medicine at The Johns Hopkins Hospital in Baltimore, MD. He joined the faculty at Johns Hopkins in 1995, where he practiced cardiac anesthesiology, ICU medicine, and led an NIH-funded research program aimed at the molecular biophysics, genetics and pharmacogenomics of cardiac rhythm disorders. He returned to Vanderbilt in 1998 as Associate Dean for Physician Scientist Development, and soon was appointed Chair of the Department of Anesthesiology, directing one of the medical center's largest clinical service programs. He was appointed VUMC's chief research officer in 2004, leading a period of scientific expansion that moved Vanderbilt's medical school into the nation's top 10 in NIH funding, while launching big-science programs integrating health informatics and precision genomics. In 2016, the National Institutes of Health awarded the Data and Research Support Center for the US Precision Medicine "All of US" Program to VUMC.
In 2008 he was elected to the National Academy of Medicine (NAM, previously the Institute of Medicine), and later that year was named the eleventh Dean of Vanderbilt's School of Medicine since its founding in 1875. In 2009, he was also named Vice Chancellor for Health Affairs with executive responsibility for all health-related programs at VUMC. Dr. Balser is leading VUMC through a period of marked service-volume and facilities growth, including a 50% expansion of the children's and adult inpatient facilities to over 1400 beds, including the institution's first off-campus inpatient facility acquisitions in 2019, and the Southeastern region's largest and most comprehensive provider-led health network (over 60 hospitals and 6700 clinicians across 5 states: Vanderbilt Health Affiliated Network). Effective in May, 2016, in coordination with Vanderbilt University, he led VUMC through an historic restructuring process involving a $1.2B public debt issuance, placing its clinicians, hospitals, over 150 outpatient facilities, and extensive research and graduate medical education programs into a financially and legally separate not-for-profit corporation with over 23,000 employees and annual revenues now exceeding $4.8B (fiscal 2020). As President and CEO of VUMC, he reports to an independent board of directors, while continuing to serve as Dean of Vanderbilt's Medical School. He presently co-chairs the Blue Ridge Academic Healthcare Group and is chairing the 50th year anniversary annual meeting celebration of the NAM while serving on the academy's governing council. Dr. Balser serves on the boards of VUMC, Tulane University, the Center for Medical Interoperability, and the public company Varian Medical Systems.