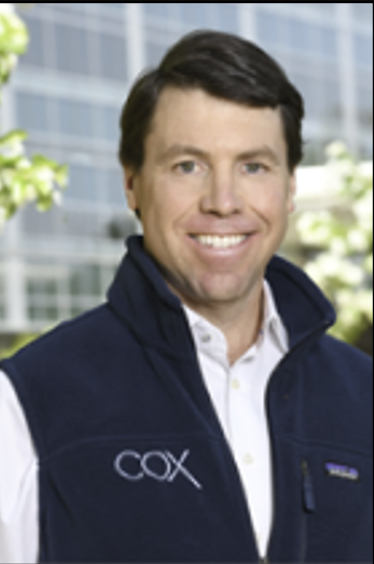 Alexander C. Taylor
Chairman & Chief Executive Officer
Since taking the helm in 2018, Cox Enterprises Chairman and Chief Executive Officer Alex Taylor has led the company's core operating businesses in broadband, automotive services and media through significant transformation while also strengthening its employee-centric and customer-focused culture.
Alex has cultivated a commitment to innovation amongst Cox's nearly 50,000 employees around the globe. He has empowered company leaders to invest in Cox's businesses to better serve customers, while also championing new investments and mergers and acquisitions in companies focused on connectivity, mobility and sustainability. Guided by his leadership, the private, family-owned company has invested nearly $1 billion in sustainable businesses and technologies such as BrightFarms, a high-tech agriculture business, and Nexus Fuels, a plastic recycling and energy production company.
Alex has infused an even greater sense of purpose into the 124-year-old company with his vision to Empower People Today to Build a Better Future for the Next Generation. Under his leadership, Cox has embraced flexible work schedules, provided enhanced health and wellness benefits, and continued its long history of promoting an inclusive and diverse environment for employees. During his tenure as CEO, Cox has been recognized as a Top Workplaces USA (2018-2021); Great Place to Work Certified (2020-2021); Fortune magazine's Best Workplaces for Women and Millennials (2020); Forbes, "The Best Employers for Diversity" (2020 and 2021) and Diversity Inc's Top 50 Companies for Diversity & Top 50 Companies for ESG (2021).
The great-grandson of three-term Ohio Governor James M. Cox, who founded the company in 1898, Alex serves as chairman of Cox Enterprises' board of directors and has held numerous positions since joining Cox in 2000. As chief operating officer of Cox Enterprises, he oversaw its long-term strategic growth and investment plans. Prior to this, he served as senior vice president of field operations for Cox Communications and executive vice president of Cox Media Group, where he oversaw television, radio, newspaper and digital properties, and led the creation of the company's first cross-platform newsroom. Alex began his career as a reporter for the Grand Junction Daily Sentinel in Colorado and is passionate about First Amendment rights.
Fueled by a deep commitment to serving others, Alex is active in numerous civic and philanthropic organizations. He serves on the Atlanta Committee for Progress, a roundtable of CEOs who work with the mayor on issues that impact the city, including workforce development, crime reduction and public education. He also serves as a board member of the PATH Foundation, as well as a member of the Carter Center Board of Councilors, the Vanderbilt Board of Trust and the Vanderbilt University Medical Center Board.
Alex earned his bachelor's degree in science with a focus on human and organizational development from Vanderbilt University and lives in Atlanta. An avid outdoorsman and conservationist, he enjoys hiking and camping with his family. He wrote, "The Longest Cast: The Fly-Fishing Journey of a Lifetime," and donated the royalties to organizations that protect fishing sanctuaries.