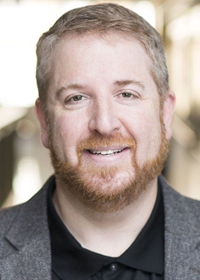 Seth R. Bordenstein, Ph.D.
Associate Director, Vanderbilt Institute for Infection, Immunology and Inflammation
Director, Vanderbilt Microbiome Initiative
Centennial Professor of Biological Sciences
Professor of Pathology, Microbiology and Immunology
U7211, Medical Research Building III
465 21st Avenue South
Nashville
Tennessee
Evolutionary genomics of animal microbe interactions 
Seth Bordenstein, Ph.D., is a biologist in the Departments of Biological Sciences and Pathology, Microbiology, and Immunology at Vanderbilt University and the founding director of the Vanderbilt Microbiome Initiative and worldwide science education program Discover the Microbes Within! The Wolbachia Project. His laboratory studies the functional, evolutionary and genetic principles that shape symbiotic interactions between animals, microbes, and viruses as well as the major consequences and applications of these symbioses to humans. The lab employs hypothesis-driven approaches to study intimate (between hosts and obligate intracellular bacteria) symbioses that deeply impact animal reproduction and vector control as well as facultative (between free-living organisms) symbioses that shape genome and species evolution across the tree of life. Since animals regularly thwart or embrace the microscopic world in both intimate and facultative symbioses, the evolutionary history of animals is generally impacted by microbial ecology.  Bordenstein's research and science education activities have been highlighted in various popular science media including a documentary on bacterial symbiosis, the New York Times, National Geographic, Discover Magazine, Public Broadcasting Service, Scientific American, and BBC Radio.
Twitter
YouTube Channel 
Discover the Microbes Within! (Science Education)
Research Information
We endeavor to understand the principles that shape interactions between hosts, microbes, and viruses and the major consequences and applications of these interactions. Four key questions that drive basic and translational outcomes are:
How did life go from one to many millions of species today and how is the microbiome involved in the processes of speciation? 
How do viral genomes evolve and function in intracellular bacteria? 
Will bioprospecting Archaea fuel discovery of new antibiotics? 
What is the relative importance of vertical and environmental transmission of the microbiome in animals? 
Publications on