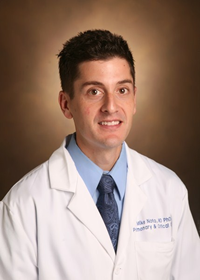 Michael James Noto, M.D., Ph.D.
Assistant Professor of Medicine, Division of Allergy, Pulmonary & Critical Care Medicine
Assistant Professor of Pathology, Microbiology and Immunology
T-1218 MCN
1161 21st Avenue South
Nashville
Tennessee
37232-2582
Innate immune responses to bacterial pathogens in the lung
Dr. Michael Noto is a physician-scientist in the Department of Medicine, Division of Allergy, Pulmonary, and Critical Care Medicine, with a secondary appointment in the Department of Pathology, Microbiology, and Immunology. He works as an independent investigator to further develop basic and translational research in the molecular pathogenesis of microbial diseases of the lung. Specifically, Dr. Noto focuses on the host-pathogen interactions of cystic fibrosis and has received a Physician-Scientist Award from the Cystic Fibrosis Foundation to study host immune response to Gram-negative pneumonia. Dr. Noto obtained his baccalaureate degree in 2000, cum laude, from James Madison University in Harrisonburg, Virginia. In 2008 he completed his MD degree, together with a PhD in microbiology, from Virginia Commonwealth University School of Medicine in Richmond, Virginia. He subsequently entered his internship and residency at Vanderbilt, and upon completion in 2010, entered a postdoctoral fellowship program at Vanderbilt in infectious diseases (2010-2013). In July of 2011 he began a second postdoctoral fellowship program at Vanderbilt in pulmonary and critical care medicine, completed in June of 2016.
Research Information
The Noto lab is focused on studying innate host defenses against acute bacterial lung infection. We are particularly interested in ways to augment host immunity as an antibiotic-independent approach to pneumonia therapy as well as understanding how combinations of bacterial pathogens present in the polymicrobial lung infections alter host immunity to promote the survival of the bacterial community.
Publications on