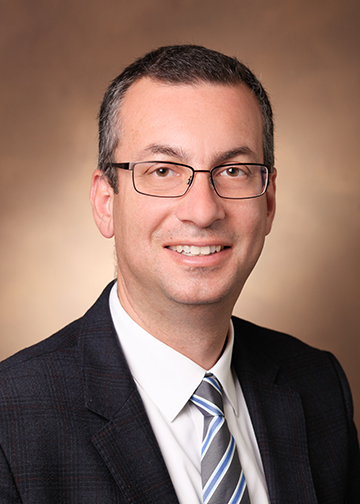 Sophoclis Alexopoulos, MD, FACS
Division of Hepatobiliary Surgery & Liver Transplantation
Associate Professor of Surgery
Oxford House
1313 21st Ave. South
Nashville
Tennessee
37232-4753
Dr. Sophoclis Alexopoulos is board certified by the American Board of Surgery and UNOS Qualified as a Live Donor Kidney Surgeon and as a Live Donor Liver Surgeon. He holds memberships with American Society of Transplant Surgeons, American College of Surgeons, Pacific Coast Surgical Association, and the UNOS Liver and Intestinal Committee.
Clinical areas of interest
Benign and Malignant Diseases of the Liver, Gallbladder, and Bile Ducts
Hepatobiliary Cancer Surgery
Hepatobiliary Surgery and Liver Transplantation
Hepatobiliary and Liver Surgery
Adult Liver Transplantation
Pancreatic Cancer Surgery
Pediatric Liver Transplantation
Education
1992-1996 B.S. (Physics) University of California at San Diego La Jolla, California
1996-2000 M.D. College of Physicians and Surgeons, Columbia University, New York, NY
2000-2001 Surgical Intern Beth Israel Deaconess Medical Center, Boston, MA
2001-2006 Surgical Resident Beth Israel Deaconess Medical Center, Boston, MA
2006-2007 Chief Resident in Surgery Beth Israel Deaconess Medical Center, Boston, MA
2007-2009 Multi-Organ Transplant and Stanford University Medical Center
Research interests
Dr. Alexopoulos is involved in both clinical and translational research involving adult and pediatric liver transplantation.  His areas of interest include liver transplantation in critically ill recipients and recipients with hepatocellular carcinoma.  He has also authored numerous publications and is continuing to study pediatric liver transplantation for biliary atresia. Additionally, Dr. Alexopoulos is participating in research on machine preservation of the liver for transplantation. 
Dr. Alexopoulos's publications may be viewed on PubMed
Contact
Vanderbilt University Medical Center
Division of Hepatobiliary Surgery & Liver Transplantation
801 Oxford House
1313 21st Ave. South,
Nashville, TN 37232-4753
Phone: (615) 936-0420
Email: sopho.alexopoulos@vumc.org
Website: https://ww2.mc.vanderbilt.edu/liversurgery/
Patients
Vanderbilt Liver Transplant Program 
The Vanderbilt Clinic, Suite 2501
1301 Medical Center Drive 
Nashville, TN 37232 
Appointments (615) 936-0438
Website: https://www.vanderbilthealth.com/transplant/28189