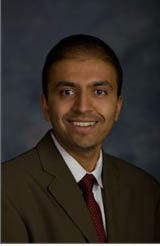 Chirayu G. Patel, MD, MPH
Resident '18, Chief Resident 2017-2018
Hometown: Bellingham, MA
Undergraduate: University of Pennsylvania
Medical School: Brown University
Graduate School: Harvard School of Public Health
Internship: Transitional Year, University of Pittsburgh Medical Center
Research interests: Translational Research as part of Holman Pathway, funded by ASTRO 2016 Resident Seed Grant - Laboratory of Dr. Pierre Massion. The laboratory has found that SLC1A5, a membrane-bound transporter, is responsible for the majority of glutamine uptake in non-small cell lung cancer (NSCLC) and is important for the cell proliferation. SLC1A5 expression in NSCLC patients correlates with worse prognosis. Together, these data make SLC1A5 and the glutamine pathway important to explore as a therapy target. 
Radiation therapy is a cornerstone of NSCLC, from early stage to locally advanced and to metastatic NSCLC. Radiation works through creating DNA damage, either directly, or indirectly via reactive oxygen species (ROS). ROS are scavenged by glutathione, for which glutamine is a building block. My studies are based on the hypothesis that targeting the glutamine pathway via nutrient deprivation, genetically via generation of CRISPR-cas9 based knockouts of SLC1A5, and pharmacologically via the use of a small molecule inhibitor (CB-839, provided by Calithera Biosciences) would improve radiosensitivity in NSCLC, through decreased scavenging of ROS. 
Outside interests: Running, biking, playing piano, oil and watercolor painting, dessert making.